Photos of the Day: TransPac
July 7 - Los Angeles
Today's Photos of the Day are from Sunday's last start of the 42nd TransPac Race 2,225 miles from Los Angeles to Honolulu.


Stan Honey and Sally Lindsay's Cal 40 Illusion, the only boat to hit the starting line on time during the light air first start last week. Stan and Sally are currently leading their class and the entire fleet, with 1,400 miles to go.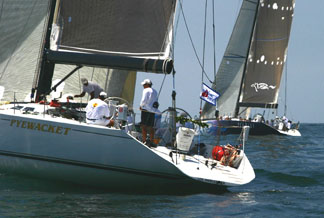 The two elapsed time threats, Roy Disney's R/P 75 Pyewacket and Philippe Kahn's R/P 77 Pegasus, both of which started on Sunday and both of which are doing their last races for their current owners.
Photos Rich Roberts
Rich Roberts reports: "Roy E. Disney's Pyewacket led Philippe Kahn's Pegasus 77 past the West End of Santa Catalina Island and into open ocean as the great match race of the 42nd Transpacific Yacht Race to Hawaii unfolded Sunday. 'We're about a mile ahead of Pegasus, which is dead astern,' Peter Isler, Pyewacket's navigator, reported by phone. 'I can't see anybody else right now in the haze.' The two lead boats passed the island 23 miles off the Pacific Coast a bit more than 2 1/2 hours after the start.
"Meanwhile, two smaller boats that started Friday dropped out. Lucky Dog, a J/125 being sailed doublehanded by Peter Putnam and Len Bose of Newport Beach, returned to its home port at noon Sunday because of a leak in the steering column of its rudder. The Cone of Silence, a Super 30 from Australia and the smallest boat in the race at 31 feet, withdrew reporting 'structural damage.' Skipper James Neill said he did not require assistance. Another boat transmitted an automatic distress signal early Sunday morning - apparently accidentally. A Coast Guard C-130 responded to an EPIRB alarm sent by Nick Martin's Schock 40, On Point, from Wilmington. On Point reported later that it had taken a wave over the side that activated the alarm but caused no damage.
"The last 12 of 57 boats to start (now numbering 55) were surrounded by a sun-splashed spectator fleet at the end of the Independence Day holiday weekend. They started in light wind off the cliffs of the Palos Verdes Peninsula. Their destination is the landmark Diamond Head finish line 2,225 nautical miles away.
"The best start was claimed by a TransPac 52, Karl Kwok's Beau Geste from Hong Kong that has Gavin Brady and other world-class New Zealand sailors on board - all sailing their first TransPacs. Beau Geste started to windward of Alta Vita and slightly ahead of John MacLaurin's fire engine-red Pendragon 4, the Davidson 52 prototype for the TransPac 52s. Pyewacket started near the middle of the line directly windward of Pegasus 77, which then played the puffs and zephyrs expertly to sail higher and faster until Pyewacket was directly behind. That changed in mid-channel, and Pyewacket seized the lead as a fresh westerly breeze of 9-10 knots arrived, allowing tacks to starboard for the first time. 'It was pretty fickle, Isler said. It kept teasing us halfway across [the San Pedro Channel]. But we're easily laying the West End by about four miles.'
"Among the boats already at sea, Peter Johnson's Maitri, a J/160 from San Diego that started Friday, had the best 24-hour run of 246 miles, averaging 10.3 knots, to stretch its lead in Division 3. The front runner was still Roger and Brenda Kuske's Dynamique 62, Lady Bleu II, from San Diego, that started Tuesday in the Aloha fleet. Lady Bleu II was almost halfway, 1,271 miles from Honolulu."
Daily position reports, charts, news summaries and photos will be posted at www.transpacificyc.org until the completion of the race. Usually they come up between 2 and 3 pm each day. Check them out!