Photos of the Day: Sausalito Cup
June 23 - San Francisco Bay
Today's Photos of the Day are from the weekend's Sausalito Cup, which was sailed in five IACC - America's Cup - boats. Intended to be nothing more than fun racing among friends with owners behind the wheels, Larry Ellison 'won' with Oracle BMW, as expected, because he had the only modern boat. The four other older boats enjoyed spirited competition and some excellent sailing.
The conditions couldn't have been more ideal. There was plenty of sun and no fog, it was unusually warm on the Bay, and it only blew over 20 for a brief period on the Cityfront during one race. It was a good thing, too, because these boats weren't intended for heavy air, and not all crews had more than a sprinkling of folks with IACC experience. Mary Coleman, charterer/helmsperson of NZL-14, reported that it took her and three others putting all their might on the two wheels to keep the boat from rounding up during one breezy sequence. But she had a great time.
Sunday's second race - the last of the scheduled five race series - was called off when it looked liked the wind was going to hoot. Ironically, it faded instead of filling in; nonetheless everyone was quite satisfied with the experience. There will be more of John Sweeney and Tina Kleinjan's Challenge Series racing in IACC boats this summer on the Bay, in late July, in September, and culminating in the the Worlds October 11-19.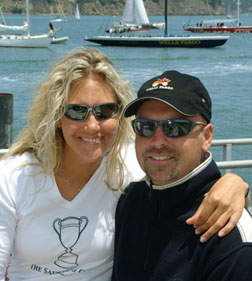 Instigators Tina Kleinjan and John Sweeney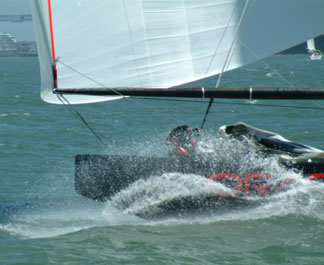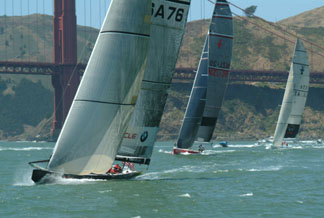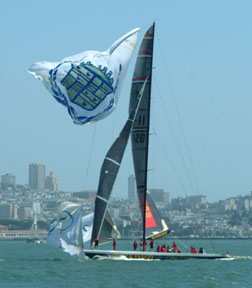 All Photos Latitude/Richard