All about Stillwater Cove
June 13 - Carmel
We got a lot of response to Paul Moench's request for information on the Stillwater Cove anchorage off Pebble Beach:
From Donna Womble: "I have not personally anchored a boat in Stillwater Cove (we used a mooring), but I witnessed several of our yacht club members doing just that last weekend. There is still lots and lots of kelp in the cove, but it is as beautiful as ever. The pier is in great shape, the floating docks are good, and the surrounding Pebble Beach golf course is exceptionally green. Last weekend was Monterey Peninsula YC's annual Commodore's Regatta, which races from Monterey to Stillwater on Saturday, and then races back to Monterey from Stillwater on Sunday. There were 15 boats racing, and many of them anchored in the cove, although some like us were lucky enough to use moorings. In addition, there were maybe five cruising boats in the cove and some from the Santa Cruz YC also.
"Stillwater YC keeps about eight moorings in the cove every summer - the individual moorings are owned by individual Stillwater YC members, and so they are pretty reserved about loaning them out. Of the boats that anchored, several of them had to do so more than once because they were dragging or got too close to shore at low tide. I think that most of the bottom of the cove is sandy, although there are rocks here and there - and there is way too much kelp!
"The entrance to Stillwater Cove is a bit narrow, too. It is protected by kelp beds on one side, and a reef on the other. You have to enter the cove between the kelp on the south approach. If you try to enter the cove from a more westerly direction - to the northwest of Arch Rock - you will have to go over a shallow reef, which is not a good idea.
"When Stillwater YC hosts or helps to organize regattas, they almost always put out picket a line between two moorings so the smaller boats that visit usually tie up that way. This year, amazingly enough, the picket line was populated by a Sydney 38 at one end, a Soverel 33 at the other, and had two Santana 22s and one J/22 in the middle! I'm really surprised that they didn't drag, but everyone was okay overnight.
"In the old days, the Carmel High School Swim Team would hold a Stillwater Kelp clean-up as a swim practice exercise. I don't think they are cutting kelp there anymore, probably because their coach, also a member of Stillwater YC, has now retired. I don't know what the restrictions are on harvesting kelp now, but I'm sure that the Monterey Bay National Marine Sanctuary has something to say about it. Curiously, Monterey doesn't have much of a kelp problem these days; perhaps someone is harvesting it to feed the baby abalones at the two abalone farms in Monterey!?"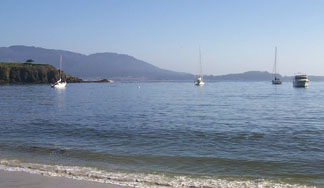 Photo Bonnie Fraik of the SC 52 Impulse
From Greg Greenlee of the J/22 Trinity: "I raced to Stillwater and back this past weekend from Monterey. Yes, the public hoist is still there, and the floating dock is there as well. There are several friendly harbor employees to help you with all your needs, and yes, there is still lots of kelp. You may try contacting the harbormaster to see if you can temporarily use a mooring for your stay."
From David Addleman: "I'm over at Stillwater right now. I spent a few days anchored there this year and have done so in the past. I'm presently on a borrowed mooring. The cove is not yet full of kelp, but it will be dense in a few weeks. It is important to put the anchor in a sandy patch. However some sand may only be inches deep. In calm conditions it is easy to see the 15 to 30 feet to the bottom. Just take your time. I think the choice anchorage is tucked in right behind the Pescadero Rocks (charted). Only two or three friendly boats will fit there. There seems to be good deep sand. I didn't drag an inch during some shifty breezes this week. The rocks block all the waves, unlike closer to the beach. The sandy bottom discourages the kelp. I cruised around there in the dink and didn't see any threatening rocks not already awash.
"The harbormasters, Chris and Ramesh, are friendly and helpful. Their dock is open 9-5. Off-hours one must land on the beach. I'd say landing on the beach is easy, except a few days ago I gracefully stepped out of the dink onto a clump of weed. The splash was dramatic, as bystanders will attest. There's enough kelp and grass that rowing is easier than motoring. The moorings are all private, as far as I know. There is always room to anchor. All the boats lost all their liquor a few weeks ago. If the thieves found ice, they had a great party. This was the one night I slept in town.
"The beach and views are wonderful. The only negatives are the all-night bright lights onshore and the kelp flies - which are two more reasons to anchor out by the Pescadero Rocks. Campfires on the beach are fun, plus kayaking (there are rentals, somehow), swimming, scuba, shopping, and of course golf nearby. The Stillwater YC Beer Cans seem to be Thursday evenings. The hoist is operational. I don't know the policy for public use. Call the Harbormaster at the Pebble Beach Company (831-647-7500)."
Lastly, from Neil Kaminar of the Fantasia 35 Angelina: "We went to Stillwater last year and really enjoyed ourselves. It is an easy walk to the Pebble Beach Lodge. Holding was fine. There is a lot of kelp, but our boat, being a full keel, was not affected. There are places to anchor out of the kelp. We enjoyed the sea life. A small seal followed us as we rowed the dinghy around. The harbor master pulls up the stairs to the float where we tied up our dinghy at 5 p.m., but we just went around that obstruction. It is a great place. Attached is a picture of our boat at Stillwater."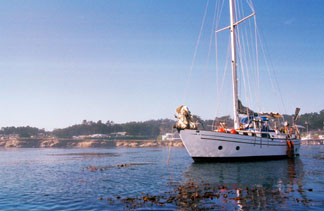 Photo Neil Kaminar