Delta Dawdling
June 6 - Sacramento Delta
As evidenced by this vintage 1932 photo, folks have been enjoying 'Delta dawdling' for generations. And if you've been among them, we'd very much appreciate your editorial input. As we mentioned in 'Lectronic Latitude last week, we are not Delta experts, despite the fact that we've been writing about it for years. So, for our
July issue, we'd like to invite Delta aficionados to share their expertise by sending in photos and short write-ups (300 words max) on their favorite Delta attractions, be they anchorages, marinas, restaurants, watering holes
or secluded waterways.
We'd also love to hear your favorite Delta anecdotes (500 words max), especially the humorous ones, i.e.: the time Grandma went water-skiing, your most embarrassing grounding, skinny-dipping by moonlight, the big fish that got away, whatever. . . Send submissions by email to Andy or by snail mail ASAP to: Andy Turpin, Latitude 38, 15 Locust Ave., Mill Valley, CA 94941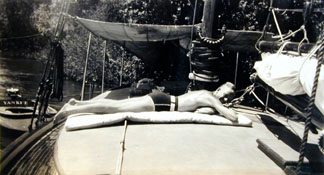 Swimsuit fashions may have
changed since the 1930s, but the pursuit of
fun, sun and relaxation still takes similar forms.
Photo Courtesy John McNeill