Elite Keel Regatta
May 21 - San Francisco Bay
Seventy-two boats in seven one design classes enjoyed perfect sailing on the Berkeley Circle last weekend for San Francisco YC's Elite Keel Regatta.
Eclipse dominated the Express 37 fleet, Cavallino the Melges 24s and I Love My Wife the Etchells. La Paloma won the IOD class, Benino the Knarrs, Cool Breeze the J/24s, and Nordic Belle the Folkboats. You can view complete results at www.sfyc.org.
For a complete report, results and more photos, see Race Sheet in the June issue of Latitude 38.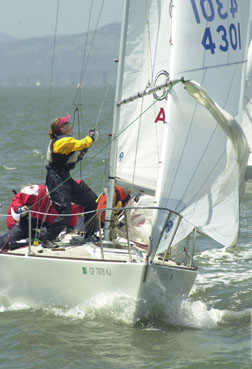 The J/24 winners demonstrate a good set.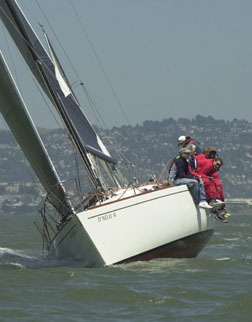 The Express 37 Golden Moon
Photos Latitude/Rob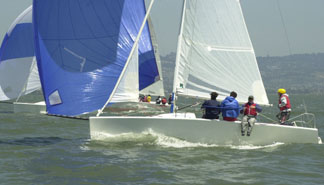 This Melges driver sports a jaunty yellow helmet.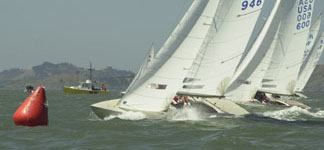 Etchells winner Craig Healy nailed this start.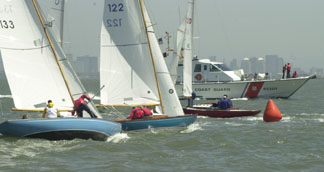 Knarrs round the weather mark, where the Coast Guard searched for evidence in the Laci Peterson case.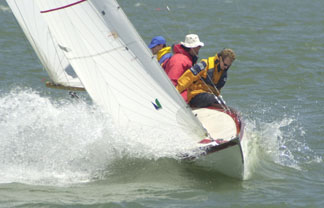 Knarrs are known for being wet boats.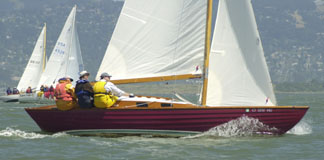 Pretty red Folkboat with a dirty bottom