Photos of the Day
May 12 - Santa Catalina Island
Today's Photos of the Day are from last weekend at Catalina, where the weather was glorious. Yes, there were small craft warnings for the channel on Friday, but it really wasn't bad at all. Saturday and Sunday were spectacular, with clear skies from sunrise to sundown. It was warm, and more unusual, it was dry. Although a cruise ship came calling, Avalon didn't seem crowded, which made things pleasant. Sunday morning, we made our way up the coast to Two Harbors. The water was clear and flat as a pancake. When it's calm like that, there are all kinds of tiny coves with beaches where it's possible to anchor. As for Two Harbors itself, it was almost empty. Just 25 boats by late afternoon. One of the boats belonged to Marty Kasules, who recently retired as the head of the Orange County Harbor Patrol. He's loving the cruising life, letting his hair grow, and reports he can't wait for the start of the Ha-Ha.
We think Catalina is a gem, particularly before and after the summer months, when it's not so crowded. But even then it's terrific, as it provides a tremendous amount of pleasure to so many people. Avalon and Two Harbors couldn't be more different, but we think they both do a terrific job. All the harbor folks have great dispositions, the locals are friendly, and the prices are reasonable. We're usually able to come up with scores of ways places could be improved, but when it comes to Catalina, we're hard-pressed to think of anything we would change. Nice going everyone!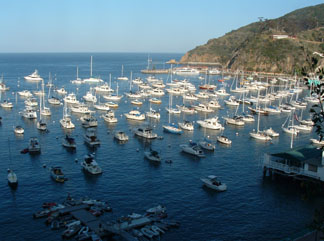 Avalon, as seen near sundown on a wonderfully warm Saturday afternoon.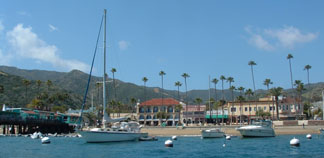 There were many vacant buoys on Saturday morning.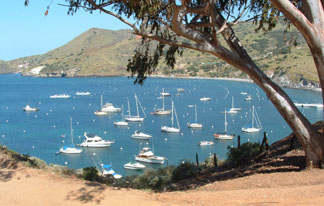 Isthmus Cove was spectacular, with a warm breeze funneling through.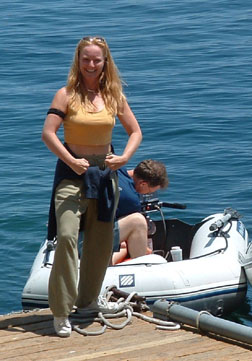 A visiting boater [photo above] shows that it sometimes takes muscles to be able to squeeze a dinghy in or out of the pack at the dinghy dock [photo below].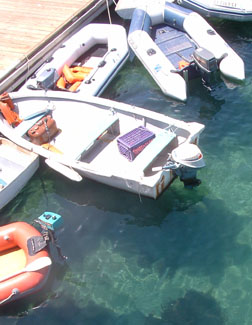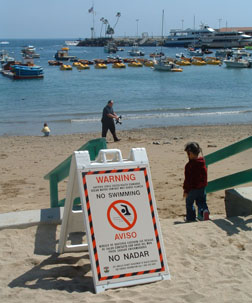 Despite the hundreds of boats at Avalon, the water is clear. Unfortunately, it's too polluted for swimming, but that's believed to be because of problems with onshore sewer lines.
Photos Latitude/Richard