As One Boat Dies, Another Is Born
May 2 - Monterey Bay
"Greetings from Latitude 37," writes Skip Allan. "A little over two weeks ago, in an unusual late spring southerly storm, an unloved Santana 22 broke its mooring off the Capitola Wharf and drifted ashore just feet from the Esplanade. This morning on my sunrise walk I saw the last remnants of the boat disappearing under the sand. The cabin was gone, and so was the deck. The only thing still identifiable was the port side of the hull. Soon that will be buried under the summer beach, and the boat will cease to exist.
"Meanwhile, in Moss Landing, 12 miles to the south, a new boat was born. . . The 65-ft research vessel Derek M Baylis was launched on April 30 about 11:30 on a beautiful day of blue skies and fluffy cumulus clouds. In attendance were about 30-40 people including Derek Baylis's daughter Liz, son Trevor and granddaughter Mara.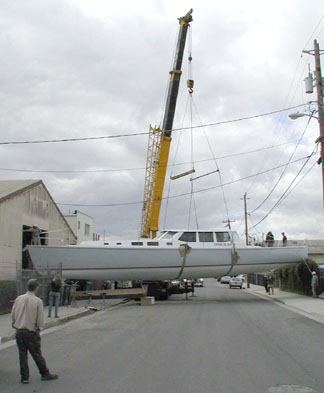 The Derek M Baylis came out of the shed
at Wylie Yachts in Watsonville last month.
Photo Jon Nackerud
"Liz gave the bottle of champagne a mighty whack, a TV news helicopter hovered nearby, and the boat was launched with the usual low key fanfare typical of a Tom Wylie/Dave Wahle collaboration. Once afloat, the engine started right up, and the Baylis was moved to a sidetie at Gravelle's Yard where she ("he?") will get her unstayed carbon masts, sails and probably a lot of visitors. In the water, the gray-hulled Baylis looks both sweet and purposeful, and the roomy doghouse lends itself to the overall design.
"When I left about an hour after the launching, Dave Wahle was already demonstrating the anchor and windlass to Randy [founder of West Marine] and Christina Repass, who are having a sistership built by Westerly. All in all, a successful day.
"And who is Derek Baylis? Derek is a sailor, shipmate, engineer par excellence, good friend, and mentor to many of us. In the early 1960s, Derek designed and built the first modern two speed winches as chief engineer for Barient. Later he built Molly B a sistership to Spirit, and burned up the SF Bay racing scene with his family as crew. Never one to let his innovative and practical skills gather rust, Derek designed and engineered many of the systems you see today at the wonderful Monterey Bay Aquarium. And if that were not enough, Derek Baylis pioneered the acquisition and outfitting of the MBARI research vessels that are now doing outstanding underwater research along the California coast."