Photos of the Day: Siesta in Panama
April 16 - Panama & Environs

Today's Photo of the Day totally cracked us up. We don't mean to be disrespectful, but the lovely little girl reminds us of something that a hippier-than-thou young mother might have brought along as a fashion accessory during a Saturday afternoon outing at Peoples' Park in Berkeley in the late '60s.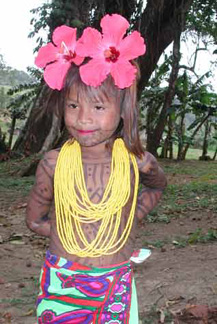 Fortunately, the reality is much better. The little cutie is a member of the Wounaan tribe in Panama. While her tribe lives only 20 miles from Colon on the Caribbean side of the Canal, the tribe is almost identical in culture and customs to the other Wounaan and Embera tribes that are found in the largely uninhabited Darien province of Panama.

Darien, you'll recall, is where the jungle is so thick that it is normally impossible to get from Panama to Colombia. In any event, the photo was taken by Ed and Daisy Marill of the Marathon, Florida-based CSY 44 Siesta.

As we've said a number of times before in Latitude, we believe that Panama is perhaps the most underrated adventure cruising ground in the world. For a small country, it's got tremendous variety. Check out these other photos.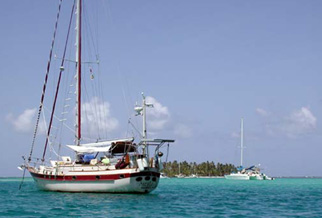 Here is Siesta and several other yachts anchored off East Hollandes Cay in the fabled San Blas Islands on the Caribbean side of Panama. The Marills note that it's not uncommon for circumnavigators to say that the San Blas Islands are what they thought the South Pacific was going to be like.
All Photos Courtesy of Siesta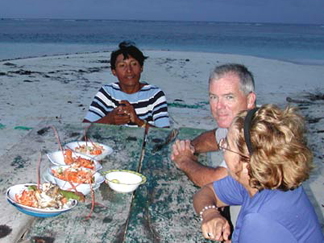 A third shot is of Ricardo, a Kuna indian, with Daisy and Siesta crewman Hank Delevati, serving lobster dinner as the sun goes down off a beautiful sandy beach. Lobster is common in the San Blas Islands. In fact, the locals fly about 500 pounds a day out to Miami.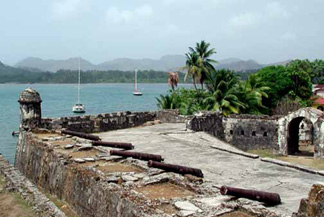 The fourth shot is of Portobelo, about 20 miles east of the Canal on the Caribbean side, and one of the most historic sites in the Caribbean. As you well know, Portobelo was discovered by Columbus in 1502 on his fourth trip to the West Indies, and later was the principal Spanish port in the Caribbean for around 200 years. Gold and other treasure from Perú were delivered to Panama City by ship, then by land across the ithsmus to the Caribbean, to await shipment to Spain from Portobelo via Havana. Large quantities of gold and silver were stored in fortresses and warehouses in Portobelo, and it is said that sometimes they were so full that silver ingots were piled up high on the street. Sir Francis Drake died off Portobelo and was buried at sea near, what else, Isla Drake. Later Jimmy Buffet included Portobelo in some of his songs about the Caribbean.

The last photo is of Ed and Daisy.
The moral of the story is don't give Panama a short shrift.