14-0 Isn't All That Easy for Brady
April 11 - Long Beach
Rich Roberts reports from SoCal:
When Sean Clarkson says, "It was a tough day," how does everybody else in the Long Beach Yacht Club's 39th Congressional Cup feel?
Clarkson, the pitman on Gavin Brady's boat, was making the point that Team Beau Geste running its unbeaten record to 14 wins Thursday wasn't as easy as it might sound.
Brady was behind in all four races, starting with an OCS (premature start) in the day's opener against Scott Dickson of Long Beach and ending with a 12-second win over Jes Gram-Hansen.
Brady also broke the hearts of Britain's Chris Law and Sweden's Magnus Holmberg along the way.
"We had some huge comebacks," Clarkson said. "When it's shifty you have to be patient."
And it's easier to be patient when the pressure's off. Brady maintained his four-match lead over Australia's James Spithill, who also swept his slate to stand at 10-4 - the only other winning record.
The dogfight for the other two places in the semifinals is Friday. Ken Read, of Newport, RI, won three of four to tie Italy's Paolo Cian at 7-7, followed by Dickson, Law and Holmberg at 6-8. Gram-Hansen and his Scandinavian countryman, Jesper Radich, are ranked 1-2 on the Swedish Match Tour scoreboard but are struggling at 5-9, followed by France's Luc Pillot at 4-10.
The race committee plans to run only three of the last four flights Friday, saving the 18th and last for Saturday preceding the best-of-three semifinals and finals.
Winds were steady but light Thursday, teasing the sailors with a sunny 6-8 knots that included a built-in 40-degree shift to the right through the afternoon.
Clarkson and Brady, products of the Royal New Zealand Yacht Squadron youth program, have been sailing together for about 14 years, and this week they are back with other Kiwi mates after spending the last couple of years with Prada's America's Cup campaign.
"The boys are just having fun," Clarkson said. "When you're having fun there's no pressure."
Brady offered a different insight. "I noticed that Sean, who is one of the fittest guys here, was sweating all day," Brady said.
But Brady also appeared to be relaxed, steering from a seat on the rail much of the time while his rivals wrestled the Catalina 37s standing up.
His best moments Thursday were the comeback against Dickson and a classic door slam against Law at the committee boat before the start. Law started 15 seconds behind but still managed to lead at the first windward mark.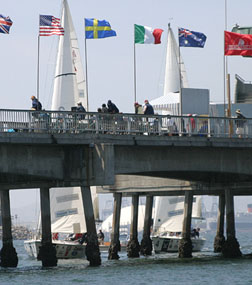 Congressional Cup spectators on Belmont Pier have front-row seats for pre-start jousting between Luc Pillot (2) and Paulo Cian.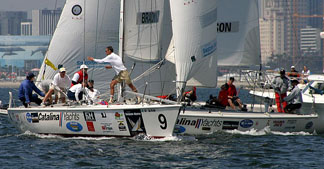 Gavin Brady circles back to restart after mistiming the start against Scott Dickson.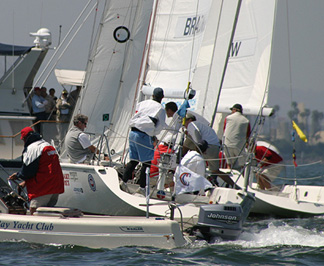 Above and below: Chris Law, under pressure from Gavin Brady, runs out of room behind the committee boat and had to circle back the wrong way to start.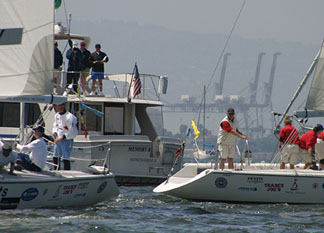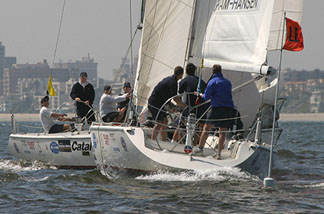 James Spithill bears down on Jes Gram-Hansen, who is trying to complete a penalty turn at the finish line. Spithill won the race.
All Photos Rich Roberts
"[Brady] fell behind in some [spectator] boat wakes," Law said. "That was tough for him."
Brady finished no better than bow to bow with Holmberg in his last race, but the Swede still owed a penalty turn from a pre-start foul.
Read, with a 3-1 day, will face Law, Brady and Radich today, while Dickson meets Spithill, Gram-Hansen and Law. After a 2-2 day, he is clearly on the bubble.
The Congressional Cup again is being sailed on the Catalina 37 sloops built for the event. A short windward-leeward race course is set adjacent to Belmont Pier, where spectators are welcome.
The event is being broadcast live on local 810 AM radio each day. The broadcasts are fed simultaneously to Long Beach City College's Web site, klbc.org, which is available to anyone with access to the Internet.
Also, about 15 minutes of edited streaming video highlights are posted on the LBYC Web site, www.lbyc.org, every night.