Record Turnout at BVI Spring Regatta
April 4 - Tortola, BVI
Down in the sunny Caribbean latitudes, the spring racing season is in full bloom, with the focus this weekend on the 32nd annual BVI Spring Regatta. A record 139 boats will begin competition today in the Sir Francis Drake Channel, which separates the British and U.S. Virgin Islands. In recent years, the three-day event has grown to become the third largest Caribbean Regatta, attracting competitors from 'up island', 'down island', Europe and North America.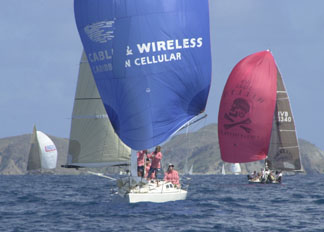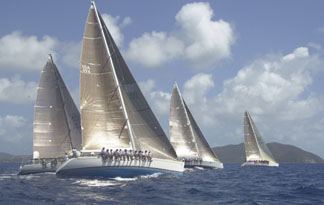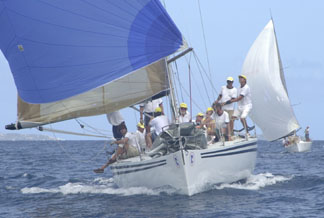 Photos from last year's regatta Latitude/Andy
Among the 'boats to beat' this year is Cosmic Warlord, a recently-refurbished Express 37 chartered from the Bitter End Yacht Club by San Francisco sailor Mike Schlens. In 2001, Schlens won Racing II with his own Express 37 Blade Runner. Another notable U.S. entry is Bill Alcott's Magnitude, which, in addition to Sotto Voce and Chippewa, is also competing for honors in the Caribbean Big Boat Series (CBBS), of which Spring Regatta is the second leg. (St. Maarten's Heineken Regatta and Antigua Sailing Week complete the series.)
In addition to the Regatta's several daily round-the-buoy races, an expanded format is being tried for the first time this year, incorporating a pre-regatta Sailing Festival which entails a fleet race to North Sound, Virgin Gorda, followed by an activity-filled lay day at the Bitter End YC and a fleet race back to the Regatta base at Nanny Cay Marina on Tortola.
Last year's event was plagued by changeable wind conditions, causing Day Three racing to be cancelled, but this year organizers hope that a strong high pressure system will provide building winds throughout the weekend, with as much as 25 knots anticipated on Sunday.
Look for a complete Spring Regatta report in the May edition of Latitude 38.