California Rain Eases Bashing Pain
April 2 - Cabo San Lucas, BCS
While folks here in Northern California may not be happy about this week's rain, it's a godsend for boats that just left Cabo doing the Baja Bash. The lows that bring rain to Northern California screw up the Pacific High, which ordinarily creates the strong northwesterlies that usually make a spring bash from Cabo to San Diego such a bitch. Thanks to the lows, it's been ultra mellow along the coast of Baja.
Paul Biery and crew Wes left Cabo two days ago aboard Paul's Catana 431 New Focus and had smooth motoring all the way to Turtle Bay, which is over 400 miles. Profligate left Cabo yesterday at noon, and has seen no more than 1-ft waves. Furthermore, Doña de Mallorca reports it was warm enough to still be wearing her swimsuit. Last night was a little wild, however, as there was sheet lightning and thunder all around. But still no wind.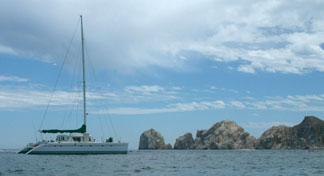 Profligate on the hook at Cabo San Lucas yesterday morning. Note the overcast. There were only 12 boats on the hook or on mooring buoys.
Photo Latitude/Richard
Bashers headed north are in a race against time, as they try to get as far north - and hopefully at least across Vizcaino Bay to the Baja coast - before the lows move east and the high reestablishes itself. The problem with waiting for the next low is that they don't come so far south - or so often - this late in the spring.