The Whale Sharks of Utila
March 28 - Utila, Honduras
Bernard Slabeck writes from the NW Caribbean, "I'm on the Lagoon 38 Beyond Reason (Ha-Ha 2001) with owner Jerry Lumbard. The diving here is blowing my mind. We are one island west of Roatan, Honduras, an island called Utila, surrounded by reefs. A small island, it's only about 3 by 8 miles, so none of the dive sites are very far away. You can get open water certified for under $100.00 U.S. I rented a tank, BCD, and regulator (dive equipment) for the amazing amount of $6.00 U.S. per day. That's not a typo - six bucks! And then two bucks for refills!
"The only town on the island is basically one street that runs along the water's edge around the only large bay on the south side of the island. The street is lined with dive shops, funky restaurants, funky hotels, little food stores, a hardware store, and government offices (read: Post Office and Port Captain). Of course there are also some bars! Coco Loco seems to be the happening bar. It's located on the water - more like a dock with a bar on it. We tie our dinghy up there when we go into town.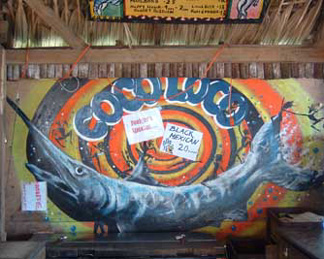 The bar at Coco Loco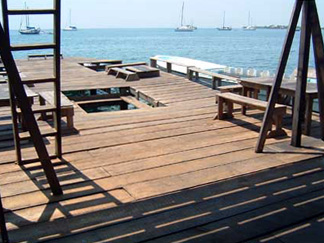 The 'dance floor' at Coco Loco. Watch your step!
Above Photos Bernard Slabeck
"We had heard that Utila is a great place during the full moon, which was yesterday. A big part of the full moon is that whale sharks hang out off the east end of the island, and for some unknown reason they tend to really show up around full moons. Fortunately Honduras has passed some laws protecting the whale sharks. The boats that take people out to see the sharks can only snorkel, not scuba dive. You're also not supposed to touch the whale sharks.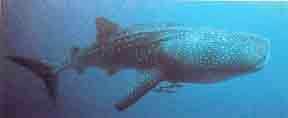 A whale shark
Photo Courtesy Bernard Slabeck
"David Lee and his wife Linda, on the Privilege 43 catamaran Expectation, organized with a dive shop to go out and see these incredible beasts. Twelve of us cruisers, with our snorkel gear, two video cameras and a couple of still cameras, went out the other day, and let me tell you, it was a humbling, amazing, once in a lifetime experience for me! The Captain of the dive boat was a Utila native who has grown up with these whale sharks.
"Here is the way it goes: We go out to a sea mound area about a mile or so off the East Point of the island and look for a boil of bonita. This is just what it sounds like, hundreds of bonita jumping up and down and acting like a forty-ft whale shark is chasing them. The whale sharks come straight up, vertically, with their mouths open and actually break the surface of the water. If I understand this correctly, the sharks aren't really interested in the bonita, but rather the tiny fish the bonita are feeding on, or krill or something. Anyway, we come motoring up to this fish boil and we got these guys up on top of the superstructure of the boat spotting and yelling to the captain, "Over there, no, over there, two o'clock, ten o'clock!" Meanwhile, as far as I could tell the captain was doing fine without the spotters. But everyone was excited and we were all having a great time! They got all of us hanging our finned feet over on the starboard side, poised and ready as we chased to the action. Then as we coast up at about one or two knots with the engine off, the captain yells, 'Jump, jump, jump!!!' We all jump on top of each other and stick our faces in the water, and at first I see millions of splashing bubbles and legs and arms and fins. Then all of a sudden, right in front of me, in the clearing bubbles, is this forty-foot spotted gray whale shark. He was big, and we were very, very small. Truly a thing of beauty, sleek and graceful. He looked at all of us flailing around and then he very gently moved his huge tail and slowly faded into the depths. Then we did it six more times over the course of the next couple of hours. We saw 30 to 40-ft whale sharks - some of them could have been the same ones, it was hard to tell.
"David and Linda managed to get some pretty good video and stills of the whole event. They made a bunch of copies of the video and sold them to us for ten bucks each, which they donated to the Whale Shark Institute of Study, on Utila. So when I find myself wondering if I really swam with these great creatures, I can watch my very own video."