Osaka Cup Underway
March 19 - Melbourne, Australia
This weekend kicked off a 5,500 nm doublehanded race backwards in time (starting with autumn in Australia, traveling through summer at the Equator, finishing with spring in Japan) from the southern tip of Australia to Osaka, Japan.
This is the fifth running of the event begun in 1987 (to commemorate the 120th anniversary of the opening of the Port of Osaka) and held every four years. After the start of Leg 2 on Day 2, the yachts have no scheduled stopovers until they reach Osaka a month or two after leaving Melbourne.
Rough weather (40-50 knot northerly wind, 20-ft seas), however, prompted about a dozen boats to anchor for shelter last night in the lee of tiny Tullaburnga Island, a few miles west of Gabo Island, on the northeastern edge of Bass Strait. They've inaugurated the 'Gabo Island Yacht Club', but hope to head off again early Thursday morning (our Wednesday morning). To follow this gutsy event, see http://osakacup.com/2003e/index.php.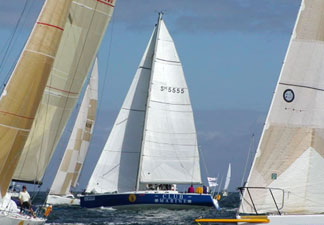 Start of Leg 2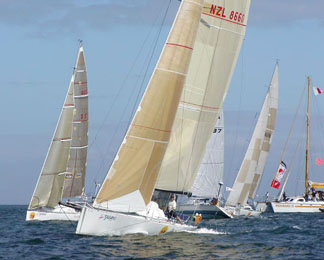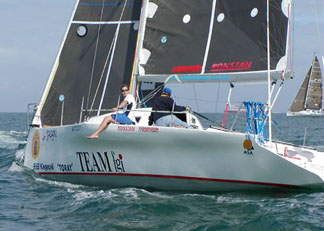 Start of Leg 1
Photos Courtesy Osaka Cup