Looking for Sardines, but Finding Only Sand
February 28 - Hidden Beach, Santa Cruz
Fatigue is not something that just affects singlehanded sailors. The accompanying photos are of the Endeavor, a 58-ft purse seiner that was driven ashore February 1 at Hidden Beach, which is a few miles south of Santa Cruz.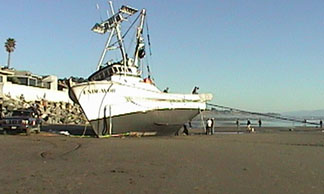 Conditions couldn't have been much better for going way up: It was blowing 20 knots on shore, there were big seas, and worst of all, it was an hour before a 6.1 high tide, the biggest in a cycle. The Moss Landing-based vessel was out looking for sardines with a skipper and three crew. The three crew were reportedly asleep while the skipper searched his instruments for signs of the little fish. The skipper apparently dozed off and the next thing he knew it was 8 am and the vessel, worth $1 million, was very high and dry.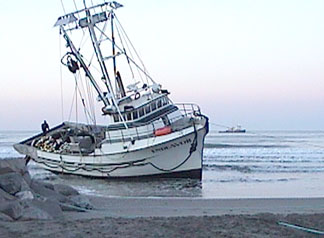 Photos Courtesy Parker Diving
As is often the case, Parker Diving was assigned the job of salvaging the boat. According to Tim Parker, they couldn't get the boat off until Tuesday the 3rd, when conditions for the job couldn't have been worse: "A sea so flat that I could have water-skied to shore." The boat was pulled off by the tug American Eagle, which has a 46,000 hp engine and was pulling on 1,500 feet of three-inch hawser rated at 159,000 pounds tensile strength. It was difficult getting the boat off the beach, but she was finally towed up to Sausalito and hauled at Anderson's Boatyard. Total salvage bill? About $175,000 - of which $42,000 went for the tow. Ouch - that's a lot of sardines! All the fuel was removed from the fishing vessel, so none was spilled on the beach.
Parker's next salvage job was about 400 feet longer - a ship aground in the Delta.