Photos of the Day: Pineapple Cup
February 26 - Montego Bay, Jamaica
One of the longest-standing records in modern yacht racing history finally fell last month, when Bob McNeil's beautiful dark green R/P 86 Zephyrus V pulled into Montego Bay on the sunny afternoon of Monday, February 10. They had just finished the 26th Pineapple Cup, the biennial 811-mile sprint from Fort Lauderdale to Jamaica, winning the race overall and setting a new elapsed time of 2 days, 23 hours, 5 minutes and 57 seconds. That lowered the previous benchmark, set by the legendary 73-foot ketch Windward Passage in the dark ages of 1971, by 4 hours, 34 minutes.
The second boat, Bill Alcott's new-to-him Andrews 68+ Equation (ex-Magnitude) arrived 29 hours later. The
rest of the 17-boat fleet dribbled in over the next few days, with the last boat, the Cal 39 Shanty Irish, arriving after almost a full week on the course.
Run by the Montego Bay YC, the Lauderdale YC, the Storm Trysail Club, and the Jamaican Yachting Association - with sponsorship from the Jamaica Tourist Board and Air Jamaica - the race once again sent just under 20 boats from Florida to Jamaica leaving four marks (Great Isaac Light, Great Stirrup Light, Eleuthera and Cuba) to starboard - a beat across the Gulf Stream, a reach through the low-lying Bahama Islands, and a 240-mile sleighride through the Windward Passage from Cuba to the finish line.
For our full report, results, and more photos, see the March issue of Latitude 38, to be distributed starting Friday, the last day of February. See also www.montegobayrace.com.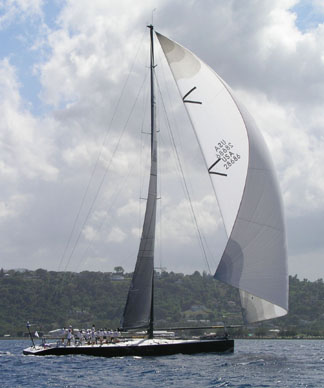 Z-5 on final approach
Photo Geoff Evans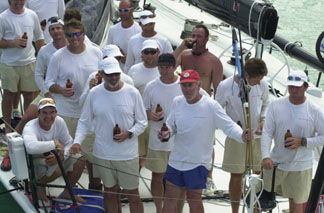 The Z-5 crew celebrates.
(owner Bob McNeil is the guy in the red hat)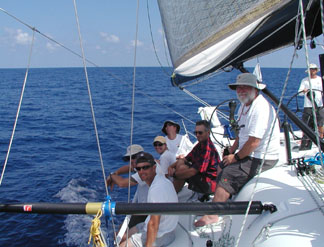 On board the Santa Cruz-based TP-52 Rosebud
Photo Steve Benjamin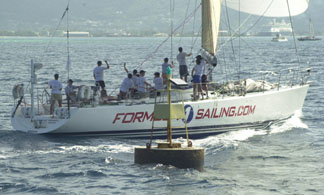 Spirit of Minerva crosses the finish line.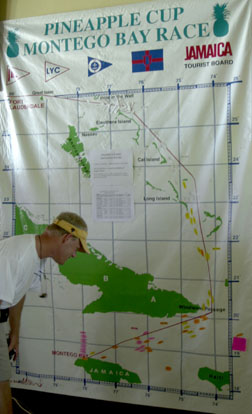 Checking the fleet's progress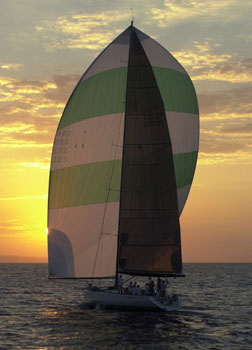 Equation finished at sunset,
29 hours after Z-5.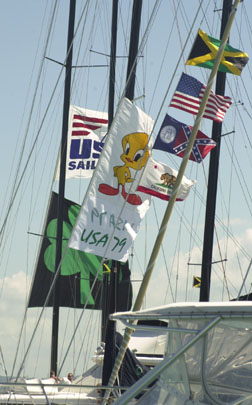 Flying battleflags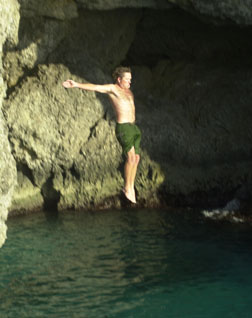 Robin Jeffers in mid-flight
at Rick's Cafe in Negril
Photos Latitude/Rob except as noted