Photos of the Day
February 21 - Zihuatanejo, Mexico
Today's Photos of the Day are all about the cost of living in Zihuatanejo, Mexico. With the dollar bringing as much as 10.7 pesos, you can see that a chorizo (sausage) omelette costs all of about $1.85 U.S, a fish filet dinner is about $4.75, while shrimp tacos are just over $3.
You can spend more, of course. At Walter Wehring's Casa Bahia / Zihua YC on the side of the hill overlooking the bay, prices are higher, but the view, service, and food make it all worthwhile. A huge plate of melt-in-your-mouth tuna tips - seared fresh tuna - was less than $5, as were generous portions of several types of sushimi platters. Killer delicious, too!
It was about $15 for their large filet mignon, which is a lot of money in Zihua, but get this, it was the best steak we've had anywhere in the last three years. Plus, it was perfectly cooked.
That's Doña de Mallorca sitting at the open air Casa Bahia bar with Walter, the lights of the city reflecting off the bay in the background.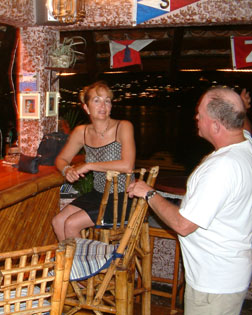 Photos Latitude/Richard