A Great New Cruising Destination on the Pacific Coast of Mexico?
February 19 - Tres Marias Islands, Mexico
David Jensen of Hopalong reports that the Tres Marias Islands, currently a penal colony about 60 miles north of Banderas Bay, may become "a nature preserve open for the promotion of eco-tourism." This according to a February 13 article in Noroeste, a daily Spanish language newspaper in Mazatlan. The article said prisoners would be moved off the islands by mid-March, and that a private concessionaire is expected to operate the reserve. Emilio Azcarraga, president of Televisa, is the principal investor in the project.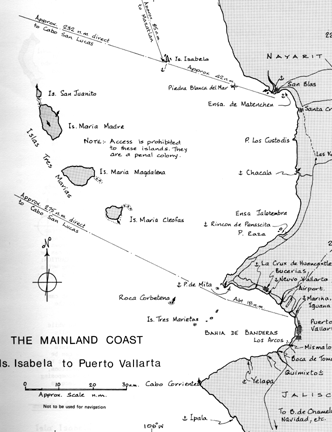 Map Courtesy Charlie's Charts
Who is Emilio Azcarraga? If we're not mistaken, his father - who died young several years ago - controlled much of television in Mexico. Apparently his son does now. We've also heard that the father once gave Dennis Conner several million dollars at the end of an America's Cup campaign that was critical in Conner hanging on to the Cup. On the victorious trip back to the dock, Conner held up a huge sign that said, "Thanks Emilio!" You know Larry Ellison's ultra-luxurious 235-ft motoryacht Katana that was his home base in New Zealand? It originally belonged to Azcarraga.
The Tres Marias are three - duh! - islands an average of 7 miles by 7 miles, with a number of smaller islands including Isla San Juanito, which is several miles across. The three main islands are volcanic and quite barren, but have peaks as high as 2,000 feet. They are spread out along a stretch of coast about 60 miles west of San Blas. They would be a spectacular addition to the cruising delights of Mexico. However, we don't have any details on how or when they might be accessible.
According to legend, the Tres Marias were once the home of a tribe of women - beautiful, of course - who only had contact with males a few times a year, and only for commercial and procreation purposes.