The Day Many Sailors Have Been Waiting For
February 14 - Auckland, NZ
This being Friday in the States, it's Saturday in Auckland, which means it's the start of the 31st America's Cup to be defended by New Zealand and challenged for by Alinghi from Switzerland. The big question seems to be whether the steering skills of 'Kiwi traitor' Russell Coutts will be enough to overcome speed benefits from New Zealand's 'hula' appendage. Our gut feeling is that Coutts will prevail and the Cup will move to Europe. In any event, if history is any guide, the final results of the best-of-nine series should be known after the first weather and downwind legs. Since 1983, the America's Cup record has been 20 races to just 1 in favor of the victors, so blowouts are the norm. This would seem to be especially likely this year, as the boats are significantly different in several ways.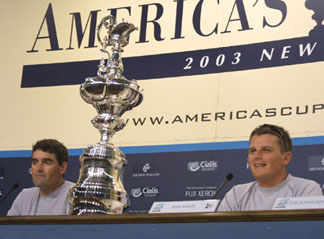 Two Kiwi skippers: Alinghi's Russell Coutts (left)
and Team New Zealand's Dean Barker
Photo Bob Grieser/Louis Vuitton Cup
Courtesy http://americascup.yahoo.com
One interesting aspect of the America's Cup, as opposed to the Louis Vuitton Challenger Series, is that there are no lower or upper end limits on wind speed. The decision to race or not will be made by Race Committee chairman Harold Bennett, and it could be a source of controversy. Alinghi, for example, is widely believed to be best in light air. So it will be interesting to see how little wind Bennett, a member of the Royal New Zealand Yacht Squadron, will be willing to start a race in. During the last Cup between the Kiwis and Italy's Prada, Bennett was widely criticized for not starting a race in which the light conditions may have favored Prada. In any event, it's time to get it on!