February 12 - Tenacatita Bay, Mexico
Having just returned from two weeks of 'research' in Mexico, the Wanderer can report that there's a tremendous difference between the outlooks on life when in Mexico and when in the U.S. While in Mexico, the prospects of war and terrorist attacks on the U.S. seem distant and remote. You're not exposed to much news about it, and frankly, it rarely crosses your mind. Further, the Mexicans we talked to say that it's been a very good tourism year for them, and that while life is still hard, it seems to be getting a little easier. While cruising up the coast, all the locals - and all the cruisers - seemed exceedingly relaxed and friendly. Further, prices were low, the dollar bought more each day, and the air and water temperatures were fabulously warm. It was very hard to leave.
Upon arrival back in the States, it's almost as if you're assaulted by a barrage of anxiety-inducing news and uncertainty. Life seems to be getting more uptight and anxious by the day. To be honest, if we didn't have important family and business reasons to be here, we'd be down in the tropics enjoying more light air sailing and surfing in warm and uncrowded waves.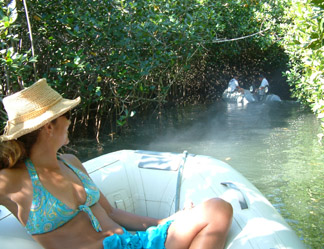 Photo Latitude/Richard
When you're following folks on the Jungle Dinghy Ride at Tenacatita Bay, or marching to the rodeo as part of the Manzanilla village's 68th anniversary fiesta, it's hard to be anxious or uptight.