Photos of the Day: Revillagigedos
February 7 - Revillagigedo Islands, Mexico
Tired of the relatively murky waters of the Pacific Coast of Mexico? You might want to try the Revillagigedo Islands, where Pete Boyce of the Sabre 42 Edelweiss III reports he could clearly see his anchor in 65 feet of water. Visiting comes at a steep price, however.
The Revillagigedos are a chain of volcanic islands roughly 250 miles southwest of Cabo San Lucas, which puts them out in the middle of nowhere. Formerly a popular spot for long range fishing charters out of San Diego, the islands are now a protected preserve. It's a good thing, too, because they are home to lots of whales, huge rays, sharks, and countless other forms of sea life.
You can't go to the islands without a permit, and in the past getting a permit has been an uncertain endeavor. But Boyce reports that he got one in just 90 days - hey, it's Mexico - from John M. Riffe of La Paz. Here's the catch: The permit cost $600 for about 10 days, so it's not for economy cruisers.
Boyce sailed to Isla Socorro from Puerto Vallarta with Stef and Marilyn Tyhordarson, who cruised the Tacoma-based Tayana 37 Circe in Mexico for years, and Sue Strembitsky of Calgary, Canada. It took the foursome 2.5 days, mostly under sail. It was predominantly close and broad reaching in winds under 17 knots and gentle three to six foot seas. One hundred miles from the islands, they hooked a 50-lb yellowfin tuna.
Fishing is not allowed at the islands, neither is going ashore. And the Navy, which maintains a base on the islands, checks in with the boats each day. They are very friendly. Boyce reports the snorkeling was excellent, as they saw many tropical fish, white tip sharks, dusky sharks, a whale with two calves, and lots of other interesting stuff. The water was pleasant, in the high 70s. The anchorage is always a little rolly, however.
Also at the islands were Steve and Barbara Cambell of the Leadville, Colorado-based Valiant 40 Blue Chablis. Apparently they sail out to the Revillagigedos every year.
If you're looking for tiendas, restaurants, hiking, and white sand beaches, the Revillagigedos are precisely the wrong place. But if you want to get away to great diving that few experience, you might consider digging deep into the cruising kitty and applying for a permit. Boyce says he hopes to return.
Their return sail to Puerto Vallarta was a beat followed by a close reach in winds up to 20 knots. It took three days, about 30% of it motoring.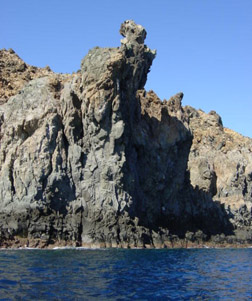 The islands are volcanic.
Photos Pete Boyce except as noted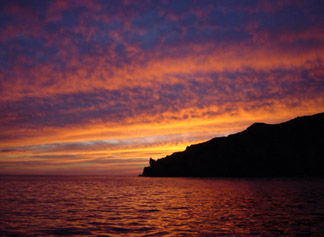 The colors at the isolated islands are vivid.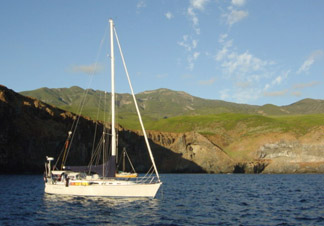 Edelweiss III at Isla Socorro.
There's only one anchorage in most conditions.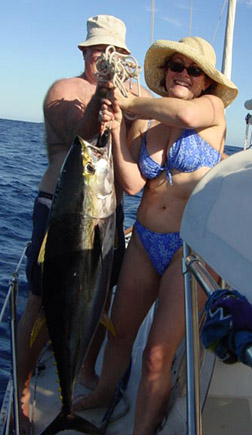 Stef and Marilyn pull in a 50-pounder
on their way to the islands.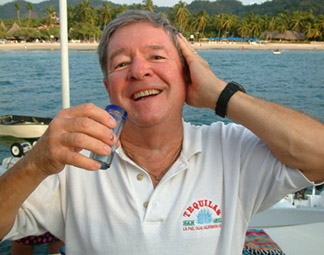 Pete, in Zihua, recalling his trip to the Revillagigedos.
Photo Latitude/Richard