Photos of the Day: Shipwrights' Regatta
February 6 - Pt. Townsend, WA
A summer-like day brought out a record number of vessels and sailors for Port Townsend's twelfth annual Shipwrights' Regatta. Saturday, Feb. 1, saw 51 sailing vessels of all sorts galloping about Port Townsend Bay, and spectators on the piers and hillsides enjoyed the halcyon conditions that lured the fleet of shipwrights out for celebration.
The regatta is sponsored by the Wooden Boat Foundation to foster camaraderie, competition and community participation for the dozens of shipwrights along the waterfront and the vessels in their care. For the purposes of the Shipwrights' Regatta, "If you have ever so much as used a screwdriver on your 'ship', join this fleet of shipwrights for a day that reminds us why we do it."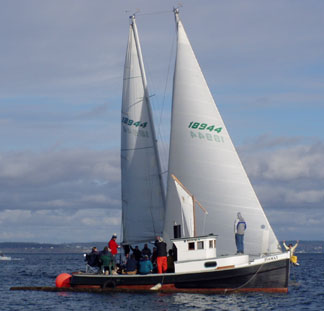 Photos Courtesy Wooden Boat Foundation
The tugboat Isswat served as race committee platform, with Sea Scouts from the Wooden Boat Foundation's scout ship Falcon assisting. Conditions were mild with a warm southerly breeze of 8 to 15 knots, a stark comparison to the near gale conditions of last year. The 9.2-mile course directed sailors twice past City Dock, across Port Townsend Bay to round the old navy tower by Rat Island and on a reach to and from Mid-Channel Bank at the entrance of the Bay.
The winner of line honors from last year's regatta, Pacemaker, led the fleet to the first windward mark but was passed by some of more recent additions to the fleet. The reaching legs provided opportunities for the less weatherly vessels to regain distance lost on the beating legs, and local knowledge of the currents figured into the strategies of the vessels that performed well. Captain Pete Helsell, in deference to the fleet of largely wooden vessels, modestly raised the point that only in Port Townsend would the first fiberglass boat to finish, his Spirit, be led by two wooden vessels.