Photos of the Day: Zihua Sail Fest
February 5 - Zihuatanejo, Mexico
Would you like to hear some very good news for a change?
In just its second year, the cruiser-created and run Zihua Sail Fest, held Jan. 29 through Feb. 2, has blown the doors off all expectations by raising an astonishing $23,000 U.S. for the Netzahualcoyotl School in Zihuatanejo that educates and feeds (mostly) orphan children from five local indigenous tribes.
The 29th featured a Southbounders' Cruising Seminar in the morning, followed by a Zihua Kick-Off Party that night at Rick's Bar. Jim and Sue Corenman gave a three-hour wireless email seminar on the morning of the 30th, which was followed by a gala beach party at the Los Gatos Beach Club that afternoon. The next afternoon, 26 of the 80 boats in the bay participated in a six-mile 'nothing serious' pursuit race, which was followed by a dinghy-in cocktail party with as many as 145 people aboard Profligate at once. On February 1, three catamarans, Michael Wright's 42-ft Wavy, Paul Biery's Catana 43 New Focus, and Latitude's Profligate, participated in a charity race fund-raiser. The event wrapped up the next day with a sail parade led by the port captain and attended by many Mexican officials, and with a beach party and awards ceremony. Wow!
When the Wanderer, from afar, tossed out the idea of a charity event in Zihuatanejo last year, he envisioned a casual one or two day event that might raise $500 or $1,000 for some unknown charity in town. But Jimmie Zinn of the Richmond YC based Morgan 38 Dry Martini and another cruiser on Abraxas worked with Rick of Rick's Bar to take that concept further, raising $2,000, which was matched by the Richard and Gloria Bellack Foundation of San Diego, bringing the total to $4,000 in 2002.
When this year's organizing committee set a goal of a total of $10,000 - $5,000 raised and $5,000 matched by the Bellack Foundation - we thought the heat of Zihua had melted their brains. But we had greatly underestimated the skills and dedication of Chris and Becky of Bonne Idée, Michael and Catharine of Breila, Ed and Daisy of Siesta, Dawn and Christopher of Alaska Sun, Mikki and Greg of Mikelai, and Jimmie and Jane of Dry Martini and Rick of Rick's Bar. They raised $11,500 dollars - including $3,000 from non-sailor Bill Underwood - which when matched by the Bellack Foundation brought the total to $23,000.
At the awards ceremony, a symbolic check was presented to Marina Sanchez Hernandez, an extraordinary Indian woman, who, having received an education thanks to charitable help, has dedicated her life to helping others get a similar education.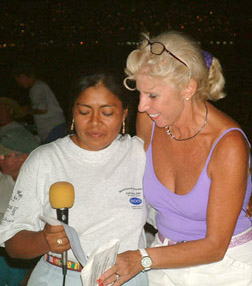 Gloria Bellack presents a $23,000 check to
Marina Sanchez Hernandez of the Indian School.
Marina started out teaching non-Spanish speaking Indian students under the trees a number of years ago, moved up to a school housed under a tin roof with stick walls, but now has a more permanent facility. The purpose of the school is provide Spanish skills and a primary education for the children, for as the Indians' traditional means of earning a living are drying up, they and their culture will perish unless they can be assimilated into Mexican society. The problem is Indian children don't speak Spanish, so they can't be admitted to local schools.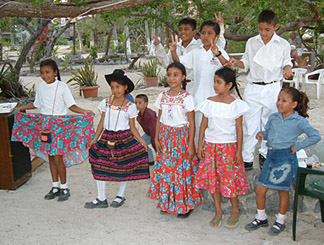 Some of the orphaned indigenous children
from the Netzahualcoyotl Indian School.
Photos Latitude/Richard except as noted
What could be better than doing good while having sailing fun in the winter warmth of Mexico? Several of the core organizing committee members will be back next year, so if you're coming to Mexico next winter, put the Zihua Sail Fest down on your calendar. We don't have the exact dates, but figure on near the end of January.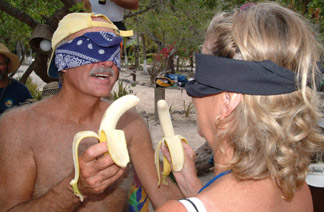 A couple of cruisers hard at work raising money through blindfolded banana shenanigans.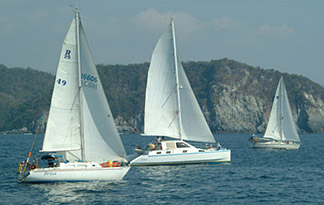 In the pursuit race, the catamaran
Wavy edges past a Ranger 29.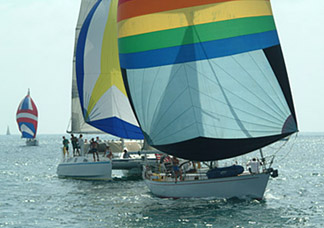 The last leg of the pursuit race, in which
Wavy tries to overtake a Peterson 44.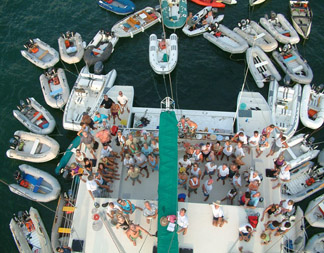 Dinghy-in cocktail party aboard Profligate
Photo Jim Knapp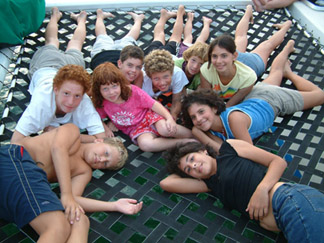 Cruiser kids at dinghy-in party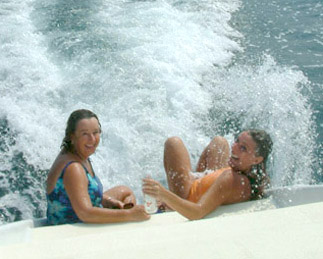 Heike, wife of Rick of Rick's Bar, and friend cool their heels on one of Profligate's transoms during the catamaran charity sail. Zihua air temperatures were in the 90s and water temps were in the mid-80s.