Photos of the Day: Miami OCR
February 3 - Miami, FL
The Rolex Miami Olympic Classes Regatta concluded Saturday after four days of sailing in pleasant sunshine and a fresh, steady breeze on Biscayne Bay. The regatta attracted 526 competitors representing 34 countries in 11 Olympic classes and two Paralympic classes. It's the only ISAF Grade One ranking event in the U.S.
American Mark Mendelblatt snatched the Laser title from defending champion Paul Goodison (GBR). For his performance, Mendelblatt was deemed the best U.S. sailor at this event and received the newly created "Golden Torch" award. The award is an Olympic Torch from the 1980 Olympics in Moscow (which the U.S. boycotted in protest of the Soviet invasion of Afghanistan) presented by the Russian Olympic Committee to the chairman of US Sailing's Olympic Sailing Committee.
The huge (68 boats) Star Class was the most competitive, with almost every boat in the fleet at some point awarded a black flag or scored OCS (on course side) for starting early. Peter Bromby and Lee White sailing for Bermuda won the regatta by 21 points. Americans Andy Lovell/Eric Oetgen took second. U.S. teams dominated the top ten with Bill Hardesty and Will Stout taking third, Paul Cayard in fourth place and Terry Hutchinson in fifth.
Another amazing performance was seen in the 470 Men's class by Americans Paul Foerster and Kevin Burnham. The Olympic medalists won by a one-point margin, with Steve Hunt and Michael Miller settling for second. The American 470 Women's team of Katie McDowell and Isabelle Kinsolving sailed steadily throughout the series to win in that class.
For complete results in all the classes, daily reports and more excellent photos, go to www.ussailing.org/Olympics/RolexMiamiOCR.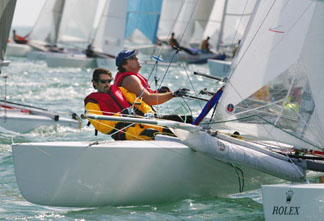 Puerto Rico's Enrique Figueroa and Jorge Hernandez starting in their Tornado. Roman Hagara and Hans-Peter Steinacher (AUT) won the catamaran class.
Photo Dan Nerney/Rolex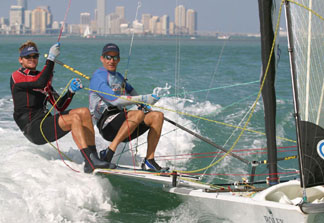 Peter Spaulding and Tim Wadlow won the 49er class.
Photo Dan Nerney/Rolex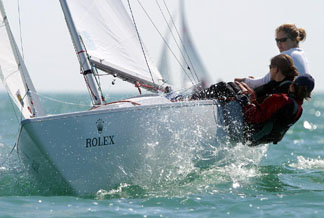 Sally Barkow, Carrie Howe and Deborah Capozzi won the Yngling class, which will see its first Olympics in 2004.
Photo Daniel Forster/Rolex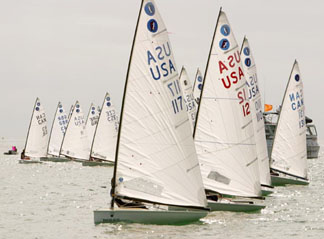 Laura Schmidt leads the Europe Dinghies off the line.
Lenka Smidova (CZE) won the class.
Photo Dan Nerney/Rolex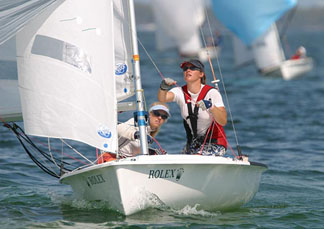 Erin Maxwell and Jennifer Morgan
sailed their 470 to second place.
Photo Daniel Forster/Rolex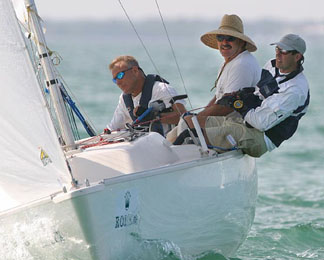 John Ross-Duggan, Jean-Paul Creignou and Mike Ross from Newport Beach won the Paralympic Sonar class.
Photo Daniel Forster/Rolex