Photo of the Day
January 28 - Key West
Unlike the past few years, the 2003 Key West Race Week, sponsored by Terra Nova Trading, was cold and breezy - i.e., normal summer conditions for our Northern Californian contingent. A total of 290 boats (down from an all-time high of 326 in '01) sailed the 8-race series, representing 20 countries and 30 of the United States. Twelve Bay Area boats went to Key West to test their mettle (see Race Sheet in January's Latitude 38).
When the smoke cleared, two of the NorCal contingent earned class honors: Roger Sturgeon's R/P TP-52 Rosebud took the small, but competitive, PHRF-I group with a 1,1,2,2,1,(3),1 record, and Rich Bergmann and Shawn Bennett's Zuni Bear won the 29-boat J/105 class with scores of 6,12,11,(13),1,4,1,1. Zuni Bear also took overall Boat of the Day honors on Wednesday and - best of all - was named overall Boat of the Week at the regatta's conclusion.
Zuni Bear's winning lineup consisted of Bennett (driver/tactician), Bergmann (offside trimmer), Adam Sadeg (main), Cam Shaw (primary trimmer), Randy Carper (mast) and Tom Purdy (bow). "This was probably the highlight of all of our sailing careers - certainly mine!" said Bergmann.
Tom Coates' J/105 Masquerade, Hall Palmer's WylieCat 30 Lickety Split, and Morgan Larson's chartered Melges 24 #399 also won individual races, but fell just short of the podium. John Kilroy's Farr 40, Samba Pa Ti, with Paul Cayard, got second in class.
SoCal boats also did well at Key West, with two winning Boat of the Day honors (Alex Geremia and Scott Harris' Farr 40 Crocodile Rock and Argyle Campbell's Melges 24 Rock N' Roll) and two winning class honors (Croc Rock and Scott Taylor's B-32 Defiance).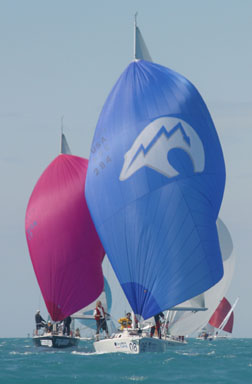 Zuni Bear (in front), and Masquerade (magenta spinnaker) do battle in the J/105 Class
Photo Garry Demarest
For a more detailed report, including results of KWRW and the Ft. Lauderdale-Key West feeder race, see Race Sheet in the February issue of Latitude 38, to be distributed starting Friday. For great reporting by Rich Roberts, a photo gallery, and complete results, check out www.premiere-racing.com.