Photos of the Day
January 27 - San Francisco Bay
It wasn't the biggest fleet (215 entries, well shy of the 253-boat fleet in 1994), it wasn't the fastest race (the record is still 2 hours, 17 minutes, set by the Antrim 30+ Erin in 1996), but the 20th Three Bridge Fiasco had to be the most pleasant one in history. The weather for the Singlehanded Sailing Society's season opener on Saturday couldn't have been nicer - sunny, flat water, and a gentle 5-10 knot northerly. "It was a perfect midwinter day," claimed SSS scorer Bill Charron. "It also was a great pursuit race, as everyone seemed to finish all together."
The winner of the zany 21-mile Bay tour (Blackaller Buoy, Red Rock, Treasure Island - in any order!) was Bill Erkelens, Sr.'s custom C-Cat Freedom, which crossed the Golden Gate finish line first at 2:30 p.m. Erkelens and crew Mark Rudiger, who now lives up in Grass Valley, sailed the course clockwise (Blackaller first, through Raccoon Strait to Red Rock, T.I.), finishing with an elapsed time of 2:54:29. "It was perfect conditions for us," said Bill. "We double-trapped both upwind and down, and we had fun starting last and passing everybody!"
The top monohull was the green Schumacher 40 Auspice, sailed by Jim Coggan and his 17-year-old son Brian. The Coggans finished at 2:45 p.m. after sailing a counterclockwise course. "We went to Blackaller first, and then were able to skirt the hole at Fisherman's Wharf by sailing out towards Alcatraz," said Jim. "We picked up about 50 boats at once right there. We sailed a longer distance, but it really paid off!"
The top singlehander was Dan Benjamin, whose red Aerodyne 38 Fast Forward crossed the line at 2:58 p.m. after sailing a clockwise course.
For more, including results and photos, see Race Sheet in the February issue of Latitude 38, due out Friday. Also see www.sfbaysss.org and/or drop by the Oakland YC on the evening of February 12 for the awards ceremony/debriefing.
Check back tomorrow for our Key West Race Week report.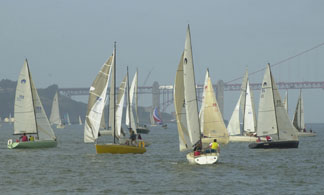 Moore 24s prepare to start. They fielded the biggest fleet (27 in the Doublehanded Division). The 3-Bridge kicks off their long Roadmaster Series.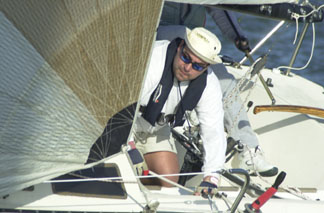 The Express 27 Dianne
Photos Latitude/Rob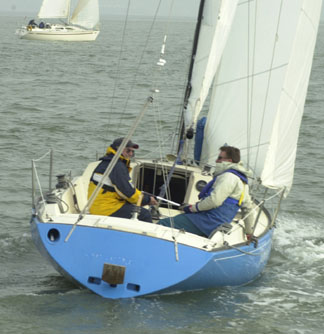 Vitesse, a Santa Cruz 27, sailed by Ward Latham (l) and skipper Grant Hayes, before the start.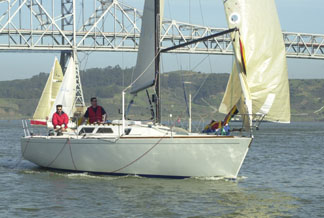 Rhett Smith borrowed the Express 37 Expeditious.
Here they prepare to set . . .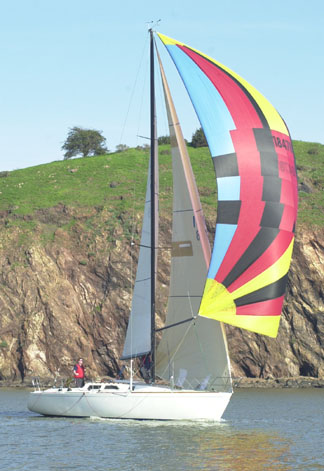 . . . And here they are on the run past Red Rock.