Winter Boat Work
January 24 - Miami Beach, FL
"A couple of weeks ago, we three San Francisco-based sailors decided to do a little weekend work on the boat . . . with a difference," reports Matt Dusanic. "I had some major repairs/upgrades to work on - new Bimini, alternators, and solar panels - and needed some help that I could count on. When I had a boat in San Francisco, that was pretty easy to find, but now that my boat is: 1) A lot bigger, in this case the Venezia 42 cat Some Day Too, and 2) Located in Miami Beach, it's a little more challenging to rustle up help.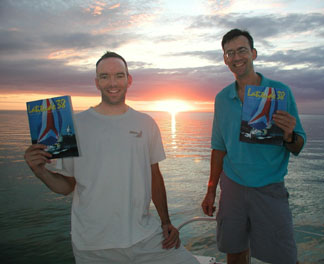 "Of course, those same issues can also be a benefit. In one of the accompanying pictures, Den Dollitle, on the left, and Matt Dusanic (me) on the right (Rob Pulkownik is taking our picture) are posing with our favorite recreational reading material. Not surprisingly, we both brought copies with us to read. Rob didn't, but he's more of a Crissy Field boardsailor, although I used to drag him out as crew. The shots were taken while on an overnight shakedown run down from Miami Beach to Biscayne Bay (anchored off of Elliot Key).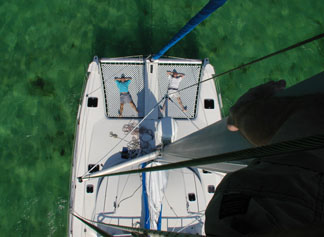 Photos Rob Pulkownik
"The second shot shows us again hard at work, while Rob shoots more pictures (and fixes the problem aloft with the furler). At the time, we were in about 6 feet of water, and the swimming, margaritas and barbecued steaks were a great alternative to a rainy day in San Francisco."