Photos of the Day
January 21 - Tiburon
Plenty of wind (except in parking lots near the clubhouse), hill-obscuring fog, Bay chop, full foulies - last weekend's Corinthian Midwinter Regatta was almost like a summer day. The big exception: a cold north wind. Because of the wind direction (and an afternoon ebb), the race committee sent the fleets to Southampton Shoals and up into the North Bay.
On Saturday, a great deal of confusion arose over the identity of the weather mark, a red channel buoy south of Red Rock, described as 'R4' in the course descriptions. As racers approached what they thought was the correct red buoy, they saw a big white '6' on it instead of a '4'. Quick, get out the chart! Later comparison at the club revealed that older charts labeled the mystery mark as 'R4', while newer ones called it 'R6'. Some racers claimed to have rounded all the red buoys just to be sure. The race committee amended the course descriptions for Sunday's racing and used the same course.
A keg of beer compliments of Pineapple Sails kicked off the shoreside festivities on Saturday. A buffet dinner and dancing to a blues band followed, but a big crowd missed out on the music in the ballroom, instead packing the lounge to watch the last nailbiter in the Louis Vuitton Cup.
Look for more photos and more complete results in the February issue of Latitude 38. This series wraps up with two more races on February 15 and 16. See www.cyc.org/races.html.
Leaders at the midway point are:
DIV. A (< 69) - 1) Surfer Girl, SC 50, Mike Travis; 2) Blue Chip, Farr 40, Walt Logan; 3) (tie) Secret Squirrel, Schock 40, John Cladianos, and Copernicus, Sydney 38, Michael Kennedy.
DIV. B (72-117) - 1) (tie) Navigator, Soverel 33, The Melbostads, and Yucca, 8-Meter, Hank Easom; 3) Mintaka 4, Farr 38, Gerry Brown.
DIV. C (120-150) - 1) Silkye, WylieCat 30, Steve Seal/John Skinner; 2) Abigail Morgan, Express 27, Ron Kell; 3) Andiamo, SC 27, Mike Warren.
DIV. D (153-180) - 1) Quickstep II, IOD, Richard Pearce; 2) Fast Freight, Newport 30, Bob Harford; 3) Never Again II, IOD, Mark Pearce.
DIV. V (> 183) - 1) Elaine, Santana 22, Pat Broderick; 2) (tie) Synergizer, Ericson 28-2, Larry Weinhoff, and Mystic, Cape Dory 30, Duane Yoslov.
BENETEAU 40.7 - 1) (tie) Night Train, Bill Canada, and Wired, Joel Davis.
EXPRESS 37 - 1) Eclipse, Mark Dowdy; 2) Golden Moon, Kame Richards; 3) Elan, Bill Riess.
J/105 - 1) Arbitrage, Bruce Stone; 2) Joyride, Bill Hoehler; 3) Orion, Gary Kneeland.
SF 30 - 1) (tie) Jeannette, Tartan Ten, Henry King, and Gammon, Tartan Ten, Jeff Hutter; 3) Jane Doe, Olson 911-SE, Bob Izmirian.
NON-SPINNAKER I (< 157) - 1) Q, Schumacher 40, Glenn Isaacson; 2) Smogen II, Custom 36, Julle Levicki; 3) Sea Ghost, Beneteau 42, Ron Roberts.
NON-SPINNAKER II (> 158) - 1) Peer Gynt V, Knarr, Jim Skaar; 2) Roeboat, Catalina 30, Rod Decker; 3) (tie) Morgan, Cal 20, Peter Birnbaum, and Gannett, Knarr, Bob Thalman.
AOTEA TEAM TROPHY - 1) San Francisco YC #3 (Arbitrage, Eclipse, Navigator); 2) Sausalito YC (Gammon, Elaine, Roeboat); 3) Berkeley YC (Shenanigans, Mintaka 4, Jeannette).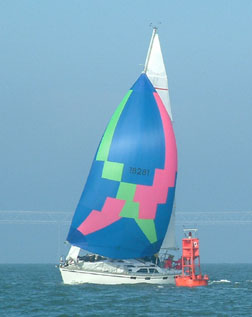 Rum Tum Tugger rounds R10 off Paradise Cove.
Photos Latitude/Chris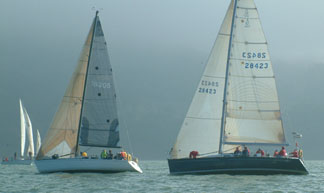 Spindrift V leads Night Train after Saturday's PHRF 1 start. Night Train is tied for first in their division.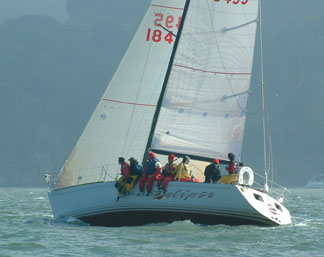 Eclipse, tied for first in Express 37s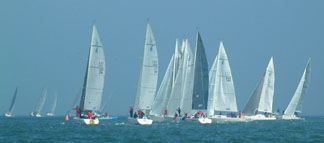 J/105s crowd into the pin end to start.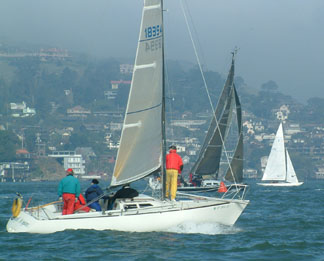 Abigail Morgan, in second place in PHRF 3,
checks out the starting line.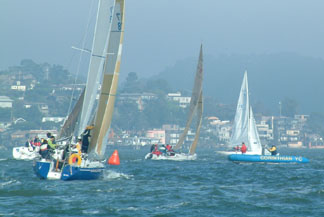 The blue boat is Navigator, tied for first in PHRF 2.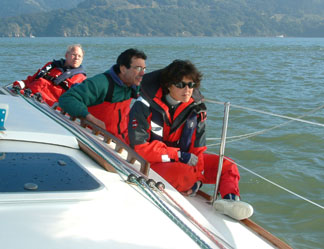 John Skinner (driving), Steve Seal and Rina Skinner on the leeward rail aboard Silkye, leader in PHRF 3, in the light stuff approaching the finish.