Maverick on the Mend
January 20 - Carriacou, Grenada
When we last reported on Tony Johnson and Terry Shrode, the duo trying to circumnavigate aboard Johnson's Richmond-based Ericson 39 Maverick, they darn near had the boat sink from under them while doing the last couple of miles of their Atlantic crossing. Once hauled at Carriacou, they discovered major cracks in the bottom of the boat just forward of the mast.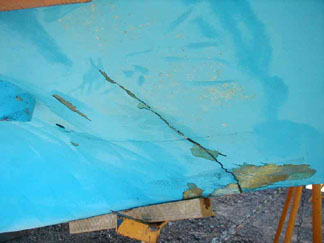 Here's the latest from Johnson: "Maverick has a big hole in its hull where the local glass man, George, has cut out the affected area in preparation for repairs. These unfortunately await the return of Uwe, another German, whose specialty is engineering. Uwe was committed to another large job which couldn't be dropped simply because the legendary Maverick showed up with a big boo-boo. The damage has been assessed by George, Uwe, Roy (who manages the yard), and a surveyor named Alan Hooper. All of these men inspire confidence and all maintain that the hull can be made seaworthy, which is the reassuring news. The not-so-reassuring news is that no one has any certainty about why it happened, and this includes the boat's designer, Bruce King, who was reluctant to venture an opinion on the phone. All claim to have never seen anything like it except on boats at the highest end of competitive racing, e.g., America's Cup. There are two possible explanations of its rarity, and one is that in fact it never has happened. The other is more likely but a little more sinister, and that is that, although it has happened before, the boats it happened to never made it to a yard where the damage could be scrutinized.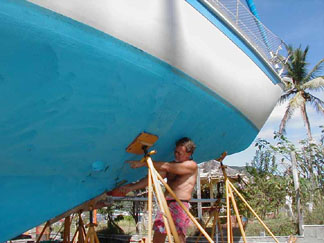 Photos Courtesy Maverick
"In all sailboats, of course, the mast is trying to go through the bottom of the boat and the weight of the keel is pushing in the same direction, while the two ends of the boat are buoyant, and the stays are trying to pull them up towards the masthead. So theoretically, all sailboats could break in half just where Maverick did. But they don't, and Maverick did, and beyond that bare fact lies speculation.
"Right now, as the Captain channel-surfs in search of glimpses of Britney at the American Music Awards, he is biting his nails hoping the repairs can be done in time to get to Panama in time to get through the Canal in time to get to San Diego in time to miss the hurricane season off the Mexican coast. The rest of our planned cruise through the lovely islands of this area of the world is distressingly out the window in a manner similar to a substantial chunk of the Captain's savings, notwithstanding any help that comes from insurance. Assuming the repairs are done in time, the next worry is whether they will hold through the big following seas of the western Caribbean, and the thousands of miles of head seas on the way to home."