Photos of the Day
January 17 - Punta de Mita, Mexico
Guess which one of these folks is Chris van Dyke, the lawyer who used to work for Nike but who is now cruising in Mexico aboard the Valiant 40 Spirit Wind?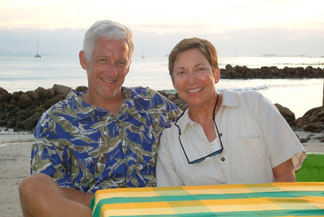 The correct answer is that they both are. The photo was taken at Punta de Mita, Mexico, in early December as the Wanderer and Doña de Mallorca were about to have dinner with the couple. During dinner, we learned that Chris, the guy, had gone from a relatively radical political activist in Los Angeles to, at age 29, the District Attorney of Salem, Oregon, a job that entailed getting woken up several nights each week to deal with grisly police matters, often senseless murders. Talk about moving from the theory to reality. He later took a job with Nike where he invented Aqua Socks.
Chris and the Wanderer enjoyed a couple of great days surfing together, including one memorable morning at La Launcha. Not only were the waves overhead with good shape, but the only others out were women decked out in wonderfully minimalist suits. Maybe it's just us, but we don't seem to get as tired paddling back out when we're right behind a gal wearing a thong.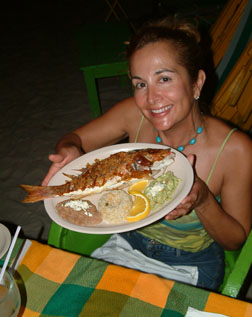 Doña de Mallorca holding up a sample of what we had for dinner at Punta de Mita. Mmmmm, good!
Photos Latitude/Richard
While surfing alone later in the month, Chris was hit in the eye by his board when it was pulled back toward him by the leash. He sought medical attention in Mexico and the United States. Here's the verdict:
"My eye is much better, but getting a second opinion in the States was the right thing to do. The U.S. doctor told me that the Mexican treatment is what saved the eye. I have nothing but positive things to say about how I was treated in Mexico. It's good to know that we cruisers are in good hands down here should further treatment be needed. Sad how stereotypes of Mexico are slow to die."