After New Year's, it was day after day of tropical perfection, as for the third year in a row there weren't any Christmas Trades in the St. Barts - St. Martin area. And although the body surfing wasn't world class, it was never ending. We boogie boarded at least 500 waves. Too bad, however, about the two guys who broke their shoulders after pile driving into the sand at Grand Saline. They were probably trying to impress cover girl Brooke Burke, who was strolling around looking really great with her second boob job, holding hands with her plastic surgeon husband and young child. We'll have more on St. Barts later.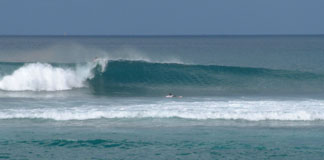 On the way home, we stopped at Pointe-a-Pitre, Guadeloupe, where we bumped into Scott, Stacy, Lauren (8) and Clay (6) of Shaw Island, Washington, aboard their Switch 51 catamaran Willyflippit.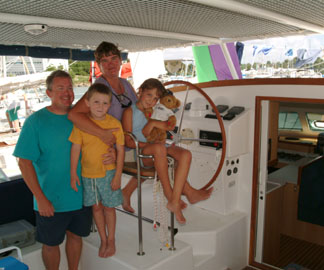 We're writing a Changes about the family, who in May of last year took delivery of their catamaran in France, then sailed around the Med before crossing the Atlantic. One problem: We were so relaxed from our vacation that we forgot to ask their last name! Maybe one of you can help. They previously owned an Island Packet 37 they sailed around Vancouver Island, then down to the Sea of Cortez for 2000 and 2001, before shipping her home from Seattle.