Final Challenger Round Begins Today
January 11 - Auckland, NZ
Racing begins today on the Hauraki Gulf to determine which team will make it to the America's Cup, the Swiss Alinghi or the Californian Oracle BMW Racing. These two teams have raced against each other six times during the elimination rounds, and Alinghi has won all but once.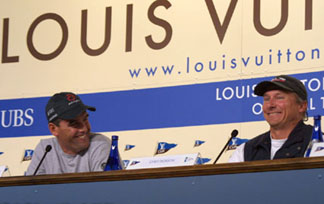 Russell Coutts (left) and Chris Dickson yuck it up
with the press before the Louis Vuitton Finals.
Photo Bob Grieser/Louis Vuitton Cup
After Alinghi smashed Oracle in their last pairing, Alinghi's Kiwi skipper Russell Coutts prophesied, "They're a good team. I'm sure we'll see them again in the future." Coutts has great respect for Oracle skipper Chris Dickson: "I think Chris is a very determined sailor," Coutts said. "He's proven his skill over the years. He made an impact coming into Oracle, no one can argue that."
About Alinghi, Dickson commented, "We have a lot of respect for their team. We're under no illusions as to whom and what we're up against."
The teams will be without laser range finders, which have been used throughout the competition so far, in contravention of the event rules, to help work out how fast opposition boats were going. This round the teams have decided to abide by the rules, concerned after the issue came up towards the end of the semifinal repechage, primarily because of the mysterious 'Goose' on the back of Oracle's boat.
Today's racing will see on-board umpires for the first time ever in America's Cup history. The on-board observers' duties will include determining when an overlap is established or broken, and immediately passing that information on to the skippers.
For more, see www.louisvuittoncup.yahoo.com. The Outdoor Life Network plans to air coverage of the Finals at 9:00 pm ET/PT on race days, with reruns the following day. For a complete schedule, see www.olntv.com/__1781.cfm.