Tasmania Tease
January 3 - Tasmania
Does anyone remember the Mystery Photo from December 20? Here it is in case you've forgotten: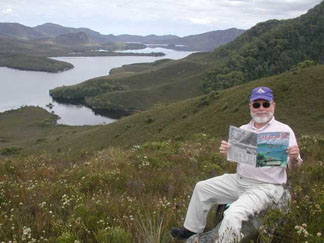 We ran this as a teaser, not a contest. The tease has stretched out all through the holidays, but no more excuses. The photo is from Steve Darden on Adagio, and we assume it was taken by his wife Dorothy. The unspoiled locale is Tasmania, specifically the slopes of Mt. Rugby overlooking Bathurst Channel. You can see many more spectacular photos at Adagio's Web site, www.adagiomarine.com.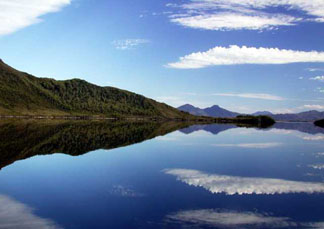 Anchorage at Moulters Inlet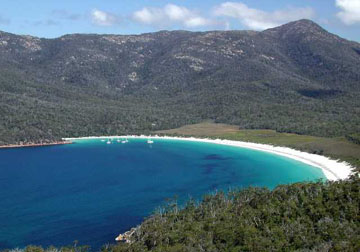 Adagio at anchor in Wineglass Bay, viewed from
the lookout between Mt. Mayson and Mt. Amos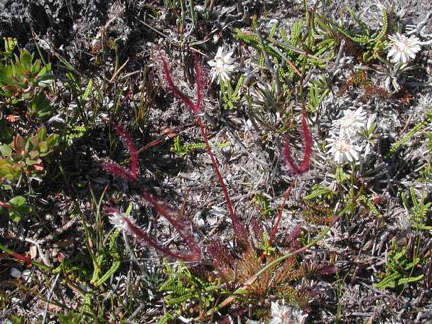 Carnivorous Forked Sundew plants underfoot
on the walk up to the top of King's Knob.
All Photos Courtesy Adagio
"Adagio is now at Sanctuary Cove Resort on the Gold Coast [of Australia], where I've talked the IT Manager into allowing us to connect our wireless LAN to their corporate network. Happiness is a broadband connection on the boat!
"We have just done an update to our Web site, covering the cruising from Tasmania up to Great Barrier Reef, June to November, 2002. In addition to the new 2002 sections, there are also lots of new photos in the 2002 section 'Tasmania - Sailing Around Hobart.' In an attempt to convey via image what some of these beautiful places are like, there are nine new panoramas on the 2002 page.
"There is a new button at the upper right of each 2000-2002 page 'All Cruise Reports Here'. This link takes you to sixteen adventure reports from Aug 2000 through Oct 2002. There are two new articles under the Techno tab: Boom Furler Issues and Web Site development tips.
"Adagio will make for Tasmania as fast as the fair winds grant, where we'll be cruising for the southern summer. Our current plans are to sail to NZ in April '03, Tahiti in April '04, and Patagonia in November '04."
Steve and Dorothy plan to write in soon with a more complete report for Changes in Latitudes. For more on Tasmania, including an interactive map, see www.discovertasmania.com.au/home/index.cfm.