Good News from the Port of Los Angeles - Long Beach
September 6 - Long Beach
Tired of all the negative environmental news? Then track down Louis Sahagun's September 4 front page article in the Los Angeles Times on what seems like a miraculous return of sea and bird life to, of all places, the Port of Los Angeles - Long Beach. Thirty years ago, the water quality was so terrible in the 15,000-acre industrial harbor complex, that croaker were found with chemical burns on their bodies, their fins rotting off, and some even had two heads or tails between their eyes. There was so little bacteria in the water that fish waste tossed into the water by fish processors wouldn't even decompose.
But with the passing of the Clean Water Act and the California Coastal Act in the early '70s, and the cracking down of water discharge permits by the Regional Water Quality Control Board, most of the high polluting businesses had to leave the area. By the mid '80s, water clarity had improved almost 100%, the levels of dissolved oxygen jumped from almost zero to nearly normal, and life began to return to the former 'dead zones'.
Now, reports Sahagun, the port is full of life. "Just beneath the trash bobbing on waves often coated with gleaming oil swim mackerel, bass, and a small but growing number of brilliant orange garibaldi, the official state marine fish. Clinging to the breakwater are lobsters and crabs, octopus and bat stars. Burrowing in the mud are worms 14 inches long and fatter than hot dogs." Sahagun reports that halibut up to four feet long cruise the kelp, and that a 20-pound lobster with thousands of eggs was caught by hand at Eddie's Marina. In all, the port complex is home to 67 species of fish. Birds are thriving, too. A nearby part of Pier 400 has become the nesting ground to 3,500 elegant terns and 600 endangered least terns.
The general consensus is that the improvements are terrific - but there's much more to be done. Unfortunately, the easy and cheap part of the solution - getting heavy industry to clean up their act - is over. Now comes the hard and expensive part. Writes Sahagun: "Then there is the No. 1 source of coastal water pollution: urban toxic runoff, which is almost always toxic to marine life and liable to sicken swimmers. The Clean Water Act requires cities to take steps to clean up the mess than washes down their storm drains. Many cities, however, say it would be too expensive to comply with all the provisions of the law."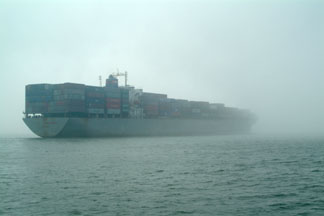 Photo Latitude/Richard