Who Saw the Catamaran Hakuna Matata from July 5 to July 8?
September 25 - French Polynesia
We're sure everyone is familiar with the case of former NBA player Bison Dele, who is missing from his 55-ft catamaran Hakuna Matata in French Polynesia, along with girlfriend Serena Kaplan, and French captain Bertrand Saldo. It's believed that Kevin Williams, Dele's older brother, killed the three on the boat. That's the story that Williams told his Santa Rosa girlfriend. Before Williams could be apprehended, he overdosed on drugs and went into a coma. He's only been kept alive by machines, and they are about to be unplugged, so the complete story will probably never be known.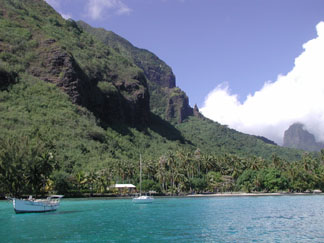 Moorea, French Polynesia
Photo Sheri Seybold
R. Scott Ohlgren, Kaplan's stepfather, writes, "We now need to move to the next phase, and that is finding the three bodies. There will be no rest for us until we either actually find some remains, or learn for certain exactly where they were dropped into the ocean. I'm asking Latitude to please help us by getting the word out about two things:
"1) The crimes took place between July 5 and July 8, somewhere very close to Tahiti. We are looking for mariners who were in the area at that time, and saw the Hakuna Matata. The profile of the 55-ft cat is unusual, so someone must have seen them.
"2) We have also been getting some seemingly farfetched explanations of Serena's whereabouts, but can't sleep until we check them out. We have heard two bizarre stories that Serena may have been taken onto a second boat, and that she was dropped off at Howland Island. From my layman's guess, Howland Island is about 900 miles away from Tahiti. You may be familiar with it - it's the tiny 1.6 sq. kilometer sand dune that Amelia Earhart was trying to reach back in '37. I want to get a message out to any mariners traveling in that direction. I would pay someone a $300 reward to stop at Howland and take an hour walk around the island to search for any remains. This is probably a bizarre request, but as I've learned over the past month, life is stranger than any fiction.
"Many thanks from myself and my wife."
Scott can be reached at: 7440 North 49th Street, Longmont, CO 80503-8847. Office: (303) 530-2332; FAX: (303) 527-0270. If you're in French Polynesia, please pass this request around.