Latest on the 'Land Canal' Across Baja
September 23 - San Carlos, Baja California
"Regarding Steve and Angelina's letter in the September issue about the current status of the 'land canal' across Baja," writes Gerry Cunningham, "I had a chat with a disappointed Eddie Grossman about a month ago. He says that in spite of progress made to date, the ecology people put a hold on the project because they are disturbed by the claims of the developers that the Mexican government's 'Nautical Stairway' will bring 50,000 boats to the Sea of Cortez a year. Who wouldn't be upset by that, especially we cruisers. The irony is that environmentalists have included the 'dry canal' in their target, when in actual fact, the idea behind the project is to reduce the number of boats in the Sea of Cortez. After all, those owners who are hesitant to face the Baja Bash and remain stranded enjoying the Sea of Cortez could use the 'dry canal' to reduce the Bash to a mere 300 miles. Eddie has purchased the dredge needed for the eastern terminus at Bahia de los Angeles, and is keeping it busy at Marina San Carlos until the dry canal project re-starts."
Here's Latitude's take on the situation. First, whatever parts of the Nautical Stairway the Mexican government completes - and we don't think there will be many - will be fiscal disasters. That the idea has even gotten this far speaks to the monumental ignorance of all those backing it. For their next project, we can only expect they'll be starting a string of government-backed tanning salons in Puerto Vallarta.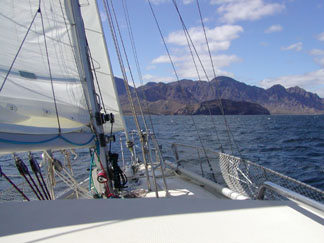 Anybody who thinks 50,000 Californians are going to take their boats
to Baja - and sail to San Evaristo, like this boat - is muy loco.
Photo Dave Wallace
The concept of the Dry Canal isn't quite so dubious, but we still don't understand it. If anyone wants to avoid the Baja Bash, they can have Grossman truck their boat to Tucson, where it can be transferred to another truck for shipping anywhere else in the States or Canada. They've been doing that for years. The new option is paying to have your boat delivered to just halfway up the Baja coast, which can still be a hell of a nasty sail to Southern California - let alone Northern California or the Pacific Northwest.