Photo of the Day
September 20 - Moss Landing
Today's Photo of the Day is of an inspiration, namely 77-year old Ivan Rusch of Moss Landing.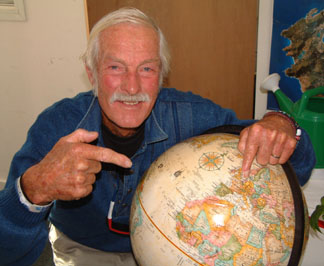 Photo Latitude/Richard
Having done a little lake sailing on nothing larger than a 17-footer, Ivan took up ocean sailing at age 75 by buying Örnaerie, a 31-ft sloop that was the last wood boat Chris Rassy built before co-founding Hallberg-Rassy. In October of 2000, the ocean novice took off with 23-year-old R.J. Trippicio of Oregon, and in one year covered a lot of ground. Specifically, they stopped in Mexico, Nicaragua, El Salvador, Costa Rica, and Panama. Then they headed up to Honduras, Caribbean Mexico, Cuba, Florida, Bermuda, the Azores, England, Holland, Germany, Sweden, Holland, and after 11 months put the boat on the hard in Denmark. Did we mention that Ivan was 75 years old at the time, and that he was new to ocean sailing? Anyway, Ivan returned to his boat last summer and just messed around in Denmark. After another brief trip home, he's now headed back to his boat with the intention of sailing to England, the Atlantic coasts of France and Spain, and into the Med and Southern Spain. He spent three months camping in Spain last year, and fell in love with the country - and all the young girls. He'll be singlehanding this time, as R.J. is up in Oregon with his Cuban girlfriend, and won't be able to join the boat again until later.
Ivan has three tips for living long and well: 1) Stay active. 2) Live on the edge. 3) Be a little crazy.
We'll have more on Ivan in the November - not October - issue of Latitude 38.