Maxi-Cat Beats Maxi-Tri
September 10 - Isle of Wight, UK
Brian Thompson and a mixed crew of 14 aboard Tracy Edwards' maxi-cat Maiden 2 have smashed the around Ireland and Britain record that Steve Fossett had set with Lakota in 1994. Thompson was crew for Fossett. The new record is 4 days, 17 hours, some 28 hours better than Fossett's time.
Making it all the more interesting, Maiden covered the course five hours faster than Olivier de Kersauson and his new maxi-tri Geronimo. Although they both sailed around Ireland and Britain, they didn't start from the same place, so they didn't always have the same conditions. Nonetheless, it was a bit of a surprise as the cat is widely considered to be vulnerable in light conditions.
It's been a great summer for Thompson, who is basically running the big cat for Edwards, who stays ashore and tries to raise money for an assault on the Jules Verne Record. In addition to breaking the Around Ireland and Britain record, Thompson drove the boat to a 694-mile 24-hour run. Unlike most performance boat skippers, he's the opposite of intense.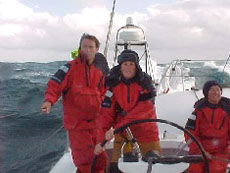 Maiden 2 off southern Ireland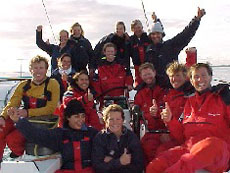 The happy crew at the finish
Photos Courtesy www.maiden2.com