Louis Vuitton Gossip Column - uh, Report
October 30 - Auckland, NZ
Squalls swept through the Hauraki Gulf yesterday, further disrupting competition in the Louis Vuitton Cup. Oh, and there was some bad weather too.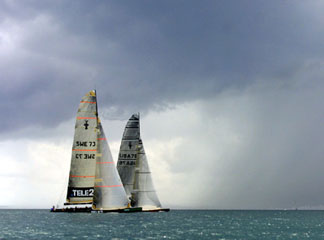 Stormy skies over the Gulf
Photo Bob Grieser/Louis Vuitton Cup
The bad weather caused a two-hour postponement of Flight Five on both race courses before action resumed on the shorter, 12.5 mile Course B. Once racing got underway, frustration soon set in as the wind died and massive wind shifts gave fits to tacticians, sailors and Race Officers alike. Leg time limits saved OneWorld and Victory Challenge who were losing their matches when the leading boats ran out of time to cross the finish line. Luna Rossa and Alinghi beat the clock however, and both scored their fourth point in four outings in Round Robin Two. All Flight Six matches were postponed without starting.
After racing, GBR Challenge submitted a Request for Redress, claiming the Race Committee made significant errors in GBR's match with Alinghi. At the post-race press conference, GBR Challenge skipper Ian Walker said his match with Alinghi was simply not a fair test of sailing.
"It wasn't much of a race. On the first beat we didn't tack, and on the next run we laid down on port," complained Walker. "We want to have good racing. Even if we don't win the race, we want to have a race. There's a number of errors ranging from where the course area was, the length of the course, as well as procedural errors. It's probably the first America's Cup race that's gone around an island since 1851. Had we known that we probably would have had a different set of charts on board." Both competitors racing on the same course in the match ahead of the GBR vs. Alinghi contest ­ OneWorld and Stars & Stripes ­ were flying protest flags before their match was abandoned for breaching the leg time limit. For the complete story, see www.louisvuittoncup.yahoo.com/story802.html.
If necessary, race organizers can hold races on the reserve days, November 2-4.
Oracle BMW has protested Stars & Stripes for postponing their scheduled race Tuesday, which led to an abandonment of the match. Stars & Stripes had first asked to be excused from their second race that day due to gear failure in the first race. They then asked to switch to a 45-minute postponement, for which they would not have to give a reason. The postponement put the start of the match past 1600 hours, but Oracle BMW said they would still be willing to start. Stars & Stripes declined the option to start after 1600. In their protest Oracle BMW (USA-76) claims that Team Dennis Conner (USA-66) radioed the Race Committee and stated that they were damaged in the first race; that USA-66 was in fact not damaged in the first race; that USA-66 used this "ploy in an attempt to get today's afternoon race with USA-76 'killed' rather than using their one-time per round 45-minute postponement"; and that USA-66 failed to comply with recognized principles of fair play and sportsmanship. For a more detailed explanation of the rules involved, see www.louisvuittoncup.yahoo.com/story797.html.
In other Louis Vuitton Cup antics, Greenpeace inflated a 50-ft tall bomb-shaped balloon outside the French base in the Viaduct Tuesday, as part of their ongoing protest of the French Challenger's sponsorship by the French nuclear company Aréva. The balloon was tethered to large yellow barrels marked with 'Aréva' and radiation warning symbols.
Over on the Defender side, Team New Zealand's second yacht, NZL-82, has had her maiden voyage in the Gulf. NZL-81 sailed alongside her new sistership yesterday, as the design team checked the new boat for problems. If all goes well, two-boat testing should begin by the end of the week.