Hong Kong Clipper, skippered by Justin Taylor, blasted across the River Mersey line ahead of her seven rivals at 14:30 GMT today, Monday, to start of the Clipper 2002 Round the World Yacht Race in Liverpool.
Beneath glorious blue skies in 10-12 knots of westerly breeze, eight yachts racing for eight cities set sail on the first leg of the eleven-month challenge, billed as the longest around the world race. A very close start saw the fleet all coming in on a port tack, with Liverpool Clipper leading in the approach to the line. The local yacht then luffed, not to cross the race start line early, and Hong Kong came just to windward at full speed to cross the line on the gun.
As the fleet tussled for positions, Hong Kong reached the first mark ahead of the fleet, but overshot, enabling London Clipper, skippered by Chris Hazeldene, to take the lead. At the Liverpool Yacht Club mark, London had extended her lead, while closely behind, New York went wide of the line managing to take Hong Kong's wind and move into second. New York is skippered by the first ever female Clipper skipper, Samantha Fuller.
Severe weather yesterday caused the start to be postponed for 24 hours. Estimated fleet arrival in Cascais, Portugal, the first stopover, is Monday, November 4.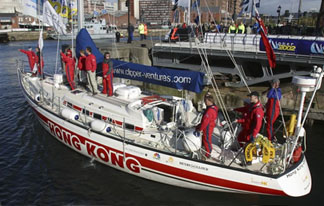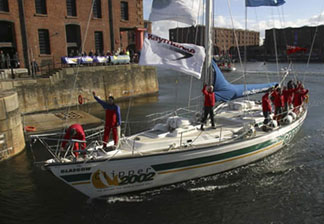 Hong Kong, leader at the start, and Glasgow
leave Albert Docks to head for the starting line.
Photos Courtesy Clipper Ventures
For Loretta Spridgeon 's complete story, as well as previous and future reports, see www.clipper-ventures.com.