Special Report:
Hurricane Kenna Hits Land at Puerto Vallarta
October 26 - Puerto Vallarta
Dick Markie, harbormaster at Paradise Village Marina in Nuevo Vallarta phoned this afternoon (Saturday) at 1:00 to report that Paradise Village suffered no damage to the marina or hotel. Markie saw winds of 55 knots for two hours, and remarkably little rain - one inch instead of the 12 inches predicted. The harbormaster had helped his tenants move to the safest spots, and some even moved into the hotel, but he said that "people who stayed on their boats could have had wine on their salon table and it wouldn't have spilled."
Marina Vallarta in Puerto Vallarta suffered only minor damage. Apparently the power is on there and everything is operational. Downtown PV sustained heavy damage. Most of the city lost power. The Sheraton hotel reportedly suffered the destruction of their first three floors from storm surge. The malacon likewise was pounded by the tide. One cruiser who called us reported that boulders are falling down hills and wiping out buildings in their path.
San Blas was apparently hit the hardest - it is unclear how complete the devastation is at this time. Marina El Cid in Mazatlan reports no effects whatsoever. Zihuatanejo, past which Kenna blew a few days ago, likewise suffered no damage.
For more, see www.cnn.com/2002/WEATHER/10/25/hurricane.kenna.ap/index.html.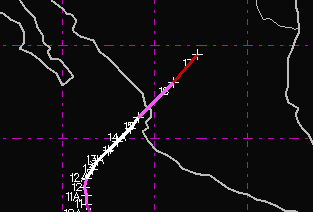 Hurricane Kenna, having hit land, has lost
power (her power source being warm, tropical
water) and has been downgraded to a Tropical
Depression, with winds of 30-40 knots.
Graphic Unisys Weather
http://weather.unisys.com/hurricane/e_pacific/2002/index.html