Dismasted Tiscali Will Continue Around Alone
October 25 - La Coruna, Spain
Around Alone competitor Tiscali dismasted five days ago in stormy conditions 90 miles off Northern Spain. The Open 60 is now docked in El Ferrol del Caudillo, a Spanish Navy base, for repairs. Yesterday, the race organization received the good news that Simone Bianchetti and Tiscali would continue in Around Alone.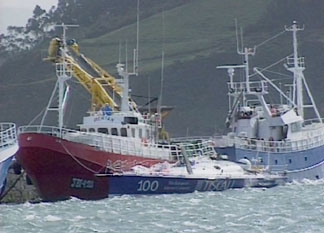 The dismasted Tiscali waited for the weather to
settle in the Spanish fishing village of Carino.
Photo Around Alone/Tiscali
The 34-year old Italian skipper commented: "We'll do everything possible to repair the damages and start again. Our determination, Tiscali's and mine, is still intact. I have no other choice than to keep fighting." Simone still has time to sail the boat down to Cape Town in order to make the start on December 8 alongside the other Class I competitors for the third Southern Ocean leg to Tauranga, NZ.
Ocean Planet has rejoined the fray in Class I. Current standings in Class I are:
1. Bobst Group Armor-Lux, 4,766.36 nm to finish
2. Solidaires, 5,037.87 nm
3. Pindar, 5,076.65 nm
4. Hexagon, 5,163.62 nm
5. Ocean Planet, 6,611.71 nm
6. Tiscali, 6,799.83 nm
Class II standings:
1. Tommy Hilfiger, 6,455.01 nm to finish
2. Spirit of Yukoh, 6,508.84 nm
3. Spirit of Canada, 6,530.51 nm
4. BTC Velocity, 6,532.03 nm
5. Everest Horizontal, 6,532.86 nm
6. Bayer Ascensia, 6,592.61 nm 6
See www.aroundalone.com for more.