Around Alone Sailors Seek Shelter from the Storm
October 18 - Bayona, Spain
All of the Class II skippers in Leg 2 (which began Monday) of the Around Alone race are seeking shelter from the storm that is brewing in the western Atlantic. Spirit of Yukoh has followed Tommy Hilfiger Freedom America into Bayona in the Ria de Vigo Bay of Spain. Brad Van Liew on Tommy documented his approach and sent it to the other Class II boats for advice on navigating into the area. He has offered himself as a point of contact for the other skippers.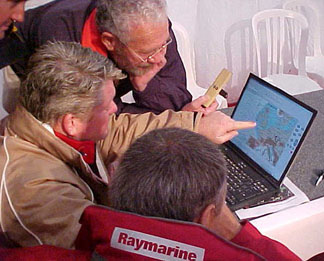 Race chairman Sir Robin Knox-Johnston checks
on the weather using Raytech software.
Courtesy www.aroundalone.com/www.raymarine.com
Most of the Class I boats are far enough along that they plan to continue on. They are starting to feel the first fringes of the storm and are preparing for the worst. The storm is almost upon them, and it's time to batten down the hatches and hold on tight. The forecast is for a rough 24 hours.
Leading the fleet is Bernard Stamm on Bobst Group/Armor Lux. This morning Stamm reported that he was north of the Azores experiencing 50 knots of wind and was expecting up to 70 before day's end. He is confident of his position to the west of the fleet: "I am waiting for this front to pass through, as behind lies a northwesterly wind to propel me eastwards at full speed downwind!"
To the east of Stamm, Thierry Dubois on Solidaires, Emma Richards on Pindar and Graham Dalton on Hexagon are preparing themselves for the onslaught. Simone Bianchetti on Tiscali stopped in France to work on his autopilots, all three of which failed. Bruce Schwab on Ocean Planet left Torbay behind the others due to his boom repairs, and is headed for Bayona. The competitors who seek outside assistance will be penalized 48 hours, on top of the time they are losing by stopping.
For Brian Hancock's complete report and ongoing updates see www.aroundalone.com.