Photos of the Day
October 15 - St. Tropez, France
Today's Photo of the Day is of Sausalito's Dawn Riley holding up the One Ton Cup.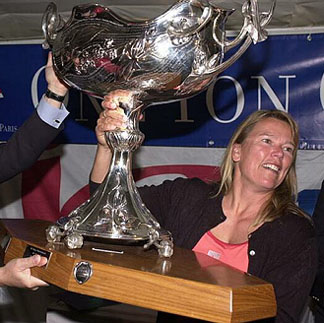 She explains what she's so happy about: "I just returned from St. Tropez, France, where the first real test of the coed and multinational team concept proved a huge success. The One Ton Cup is the second oldest trophy in the sport - just behind the America's Cup - and as trophies go, it might be more beautiful. It has been contested for over 130 years. I have been consulting for K-Challenge, which is preparing for the America's Cup in 2006. We have been sailing a 50-footer and two ILC 45s. Last week's One Ton Cup was the end of the season championship, and the competition was stiff, with sailing legends like Paul Cayard, Robbie Haines, Thierry Pepponet, and Chris Larson in the fleet. It was a very challenging event and the St. Tropez weather provided a little of everything.
The first day was canceled due to 45-50 knot winds that had waves breaking over a 10-foot breakwater and onto the bevy of mega-yachts that hang out in St. Tropez. The second day featured big seas and 20 knots of wind that made for some great pictures [see www.adrenalinimages.com for more]. The third day was light wind, flat water, and overcast with crazy shifts as we sailed under the mountains surrounding the bay. The final day started out sunny with the promise of a mistral. We were in first overall, and personally I was very nervous because we only had one way to go. An unstable seabreeze came in for the first race and a half, with huge holes that spread the fleet out and 20 minutes separating the first and last place boat in the second race. Toward the end of the race, the mistral came in hard! The final two races were sailed in 25-30 knots of wind. We were trying to sail conservatively because we had a good lead, but we learned a lesson - it is easier to sail fast and in front. When we were leading the race, we put up a small spinnaker to be safe, but it just allowed the other boats to catch up to us and make it dangerous. Our lead shrank to one point, but it was still a win!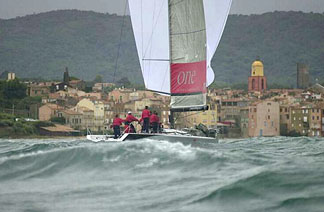 "The other K-Y team finished third, so overall a very successful regatta for the K-Challenge 2006 team. The team will now concentrate on match racing. I will be back at OLN starting Race 2 of the Louis Vuitton Round Robin covering America's Cup 2003. See you on television!"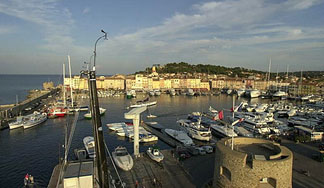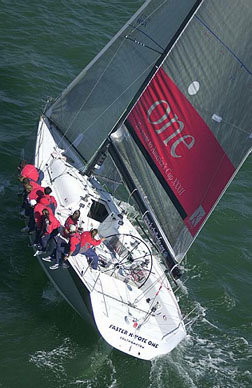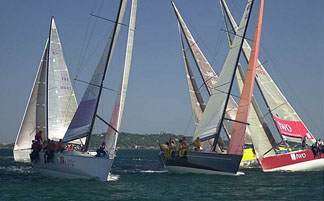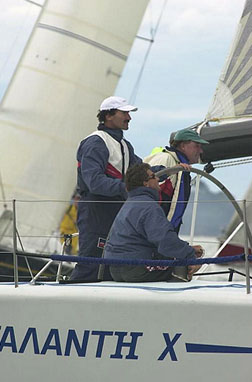 Photos Tom Zinn