Two at the Top at the End of
Louis Vuitton Round Robin
October 14 - Auckland, NZ

Yesterday's racing ended the first round-robin of the Louis Vuitton Series to determine a challenger for the America's Cup. It's become quite clear that Seattle's OneWorld Challenge and the Swiss Alinghi Challenge - with 8-0 and 7-1 records - are in a class above the rest. Larry Ellison's Oracle BMW Challenge started strong with four straight victories, but they were over lesser teams. When they came up against the top teams, they lost three in a row before picking up a final victory over a Swedish boat that lost the use of their jibs.

Observers report that Oracle BMW has a narrow 'sweet spot' and is only very good in winds above 17 knots. Thanks to lesser sail area, which was traded off for increased draft, she's clearly slower downwind and off the pace in lighter winds. The big question is whether Oracle's other boat is better in a broader range of conditions or if she or US 76 can be modified to make her more competitive with the top two boats.

There's now a short break before the beginning of the second round-robin, which will determine the boat that's eliminated, which four boats go into the double elimination bracket, and which four boats go into the single elimination bracket. That OneWorld and Alinghi will proceed into the double eliminations are no brainers. Oracle probably has a better than average chance of being a third boat, with the fourth position being battled for by GBR Challenge, Team Dennis Conner, Prada, and Victory Challenge. Mascalzone Latino and Le Defi Areva will duel each other only for the right to avoid early elimination.
After the first round-robin, here are the standings:
8-0 OneWorld Challenge
7-1 Alinghi
5-3 Oracle BMW Racing
4-4 GBR Challenge
4-4 Team Dennis Conner
3-4 Prada
3-5 Victory Challenge
1-6 Mascalzone Latino
0-8 Le Defi Areva

OneWorld Challenge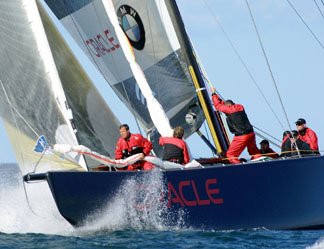 Oracle BMW Challenge
Photos Bob Grieser