Photo of the Day
October 1 - Auckland, NZ
Today's Photo of the Day is of Larry Ellison's Oracle BMW Racing getting the better of the Italian entry Prada, which made it all the way to the America's Cup finals last time.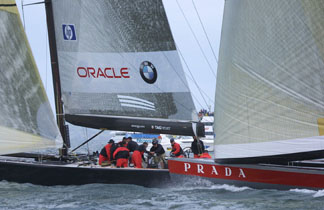 Photo Bob Grieser/Louis Vuitton
In this first day of the Louis Vuitton Challenger Series to find out who goes up against the Kiwis in February, American entries kicked ass. In addition to Oracle BMW beating Prada's Luna Rossa by 42 seconds, OneWorld of Seattle clobbered the semi-serious Mascalzone Latino entry from Italy, and Team Dennis Conner's Stars & Stripes narrowly edged Great Britain's Wight Lightning. The excellent latter match was the featured contest on the OLN network (channel 404 in Marin), and it looked to us as if Stars & Stripes was a bit slower but had a more clever afterguard.
The OLN coverage was adequate but not inspired. We can't remember the name of the 'anchor', but Sausalito's Dawn Riley - who competed with her America True last time - and Chris Law did a reasonably good job of providing color and insight. The big problem with the broadcast - and it's inexcusable - is that they didn't provide any coverage whatsoever of what was going on in the other three contests. It was as if the announcers in a 49ers game deliberately withheld the scores of the other games around the league. Ridiculous. Furthermore, the coverage and graphics weren't as in depth as when ESPN did it last time. More grousing. There have also been numerous complaints from those who spent $25 to follow the races on Virtual Spectator. And lastly, in today's digital world, it took relatively forever for the Louis Vuitton Web site to post the winners. Clearly, the sailing is far superior to the coverage at this stage.
But what the heck, all the American teams won, so it's hard to be too unhappy. Today's matches - which start at about 5:10 p.m. local time and are broadcast on OLN at 6 p.m. local time - will feature Stars & Stripes (USA 66) versus Luna Rossa (ITA 74); OneWorld (USA 67) against Alinghi (SUI 64), in a battle that's going to be very revealing; Oracle BMW Racing (USA 76) in what should be a beating of Mascalzone Latino (ITA 72); and Orn (SWE 63), making her first appearance against Le Defi (FRA 69), the slow but radioactive French entry. Wight Lightning takes the day off.
For more detailed and formal coverage, visit the Louis Vuitton Challenger Series site at www.louisvuittoncup.yahoo.com.