Maverick Ready to Cross Atlantic
November 29 - La Gomera, Canary Islands
Tony Johnson and Terry Shrode, well into their circumnavigation aboard the Richmond-based Ericson 39 Maverick, have departed the Canary Islands on their way to the Eastern Caribbean.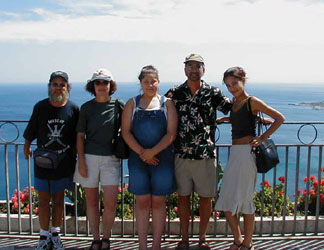 Captain Tony and family earlier in the year at an island off Italy.
Photo Terry Shrode
"We just departed La Gomera for the passage across the Atlantic. A high has begun to settle in and should soon provide strong northeasterlies for our trip southwest to a waypoint Mr. Shrode has named 'wind' for the trades we expect to follow, as Columbus did, to the Caribbean. When we get to our waypoint some 650 miles out, we'll turn right and head just south of due west for Grenada, our planned landfall, which will then be about 2,100 miles away. We won't be able to use the engine, as we have not been able to resolve the problem with the prop shaft, so we'll have to sail all the way. The Captain has some butterflies, and that's what we're here for, thrillseekers. We haven't had what we would call an adventure since we left the Red Sea six months ago, and now there's a little excitement in the air."