Route du Rhum
November 18 - Atlantic Ocean

If you think the devastation of the 60-ft trimaran fleet in the current Route du Rhum from France to Guadeloupe has rattled the faith of the skippers in the design and construction of their boats, or dampened their desire for ocean racing, you couldn't be more wrong. Here's the view of Loïck Peyron, whose trimaran Fujifilm is literally in pieces:
"The windward float is a trimaran's weak point, we've known that for 20 years, because when it's out of the water, it's not supported anymore. If it gets hit, it can vibrate and break. We know that we build the floats with huge safety margins, but it does not protect us from exceptional events, as we've just seen. Fundamentally, the boats are structurally strong. Marc Guillemot's floats are strictly identical to the ones that were on Fujifilm, and he's still in the race. I would ask myself some questions if the accident had happened to me with a two-month old boat, but here, I have no doubt whatsoever concerning the work done by the architect, the builder, or the team who improved Fuji all season long. My trimaran has already covered 10,000 miles, most of them in tough racing conditions. This first portion of the Route du Rhum has only reinforced my conviction that Fujifilm is intelligently and perfectly built, and that she has only been the victim of a conjunction of bad events. I'm en route [on a trawler] to retrieve Fujifilm, and we'll keep on improving her. Paradoxically, I really want to go back out there as these machines are so fascinating to handle. I really want to start sailing again."
Photos Courtesy Fujifilm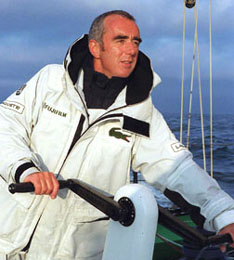 Loïck Peyron has sailed across the Atlantic Ocean 37 times, 15 of them singlehanded.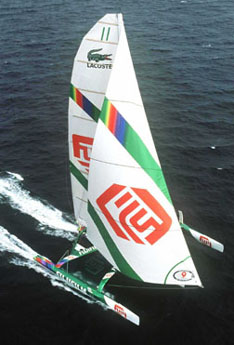 Fujifilm