Boat Massacre Continues in Route du Rhum
November 15 - Atlantic Ocean

The 60-ft trimarans are among the most spectacular sailing designs in history, capable of incredible speeds - particularly in flat water. But given the extreme conditions to date in the Route du Rhum, they are also proving to fragile and subject to capsize. (Check out the photo of Loick Peyron's Fujifilm). Yesterday saw the dropping out of three more of these tri's, bringing the total to nine. Alain Gautier, one of the world's most experienced offshore racers, explains what happened to his Foncia:

"Tonight, I was sailing in a wind of 35 to 40 knots in strong seas with waves of 10 metres. In addition, it was a cross sea at the time which made the navigation very delicate. It was a pyramid-shaped wave which came in very quickly and took hold of the boat underneath, and that's when I heard a big crack. It was dark but I had seen several waves of that type during the day. First of all the underside of the exterior coating was broken across a two metre wide area. I tried to repair it then the outer skin exploded along a five metre length to starboard. In fact, the water was coming into the beams with every incoming wave. I am also heading for Madeira and I am retiring from the Route du Rhum because I can't, on the one hand, continue in this way, and on the other we would never be able to repair it within the 72 hours allowed."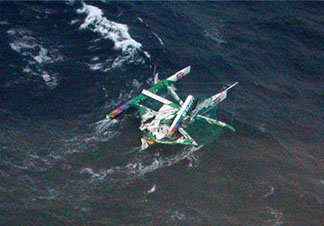 The other tri's dropping out are Karen Facconier's Sergo Tacchini, which had a structural problem that caused the mast to fall, and Bayer Crop Sciences, which is also having structural problems. With everyone still more than 2,100 miles from the finish, another 24 hours of rough weather is expected. Already contestants are questioning the timing of this race, which is held every four years.

Given the conditions and positions of the boats, it's hard to tell who is actually in the lead, but one name pops to the top in monohulls - Britain's Ellen MacArthur aboard Kingfisher. Fellow Brit Mike Golding is 24 miles back with Ecover.