Route du Rhum Continues to Be Rough
November 13 - Atlantic Ocean
If you take some of the most talented and aggressive singlehanded skippers in the world, put them on the most high tech boats in the world, and add in North Atlantic fronts with winds over 80 knots, there's going to be carnage. So it is that in the early stages of the Route du Rhum, four boats have capsized, three have been dismasted, and nine others have retired. That's out of a fleet of 58. And now the leaders are about to sail into southwesterly gales. Here are some of the reports:
"At midnight, Philippe Monnet reported wind shifts from 20 to 70 knots. Monnet's Sopra Group had only the storm jib up and was sailing in survival mode. The extremely strong wind hit the trimaran too hard, the staysail got caught up in the furler forming a huge pocket. This catapulted the trimaran right over sideways some time after midnight. Monnet has been safely airlifted, having had to abandon the boat in the dangerous conditions.
"The next victim of capsize occurred at 0610 GMT this morning, when Yvan Bourgnon on Rexona Men was hit by brutal wind forces, which lifted the boat and knocked it over. Close by, Loïck Peyron on Fujifilm was severely beaten by the same sort of conditions. With no sails up, on starboard tack, in massive waves and 45 knots of wind, Loïck Peyron realized at 0900 GMT that his starboard float was broken in two, neatly cut between the two beams. Two hours later, at 1100 GMT, the French skipper called in again ­ Fujifilm had dismasted. The front of the starboard float exploded, and the mast immediately gave out. The mast fall damaged the port float, which is now filled with water. Peyron is calm and claims there is no emergency situation. He is now sailing a 'proa', heading downwind towards Portugal. The majority of the powerful but vulnerable trimarans are sailing with solely a storm jib and the main sail down."
In the monohull division, the Brits continue to hold to the lead. The monohull fleet is doing better than the cruel harvest of the 60-foot trimaran fleet, and the race is full on. Mike Golding's Ecover has been in the lead since yesterday. Ellen MacArthur on Kingfisher is catching up at a steady pace, only 4 miles behind at the 15.00 GMT position report, and moving three knots faster. With three reefs in the main and a storm jib, Golding was calm, with high morale despite the conditions, "The conditions are very bad, and the wind will be increasing, making it even more difficult. It is a very, very rough sea, and sailing at 14-15 knots of speed, each wave is quite an impact. We have just got to get through this and catch some nicer conditions." Australian Nick Moloney on Ashfield Healthcare is still leading the Class 2 monohulls.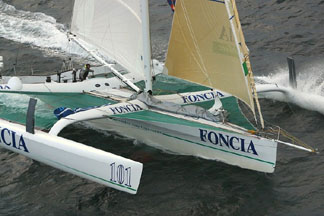 Alain Gautier's Foncia is still sailing, in second place.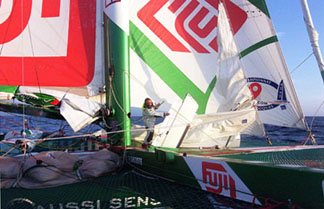 Loïck Peyron and Fujifilm
Photo Jobard/Sipa/www.pixsail.com
Positions on 11/13/02 at 15:00:00 GMT:
Multihull 60' ORMA
1. Thomas Coville, Sodebo, 2,851 miles to finish
2. Alain Gautier, Foncia, 2,935 mtf
3. Marc Guillemot, Biscuits La Trinitaine-Ethypharm, 2,941 mtf
Monohull 60' IMOCA
1. Mike Golding, Ecover, 2,810 miles to finish
2. Ellen MacArthur, Kingfisher, 2,814 mtf
3. Roland Jourdain, Sill, 2,865 mtf
For details, visit www.routedurhum.org.