Thierry Overtakes Emma After Pindar Loses Main Halyard
November 8 - Atlantic Ocean
Thierry Dubois and Solidaires have moved to second place in the Around Alone Race after Emma Richards lost her main halyard on Pindar. Dubois jokingly reports: "There was only one charming creature on the Atlantic Ocean yesterday, and it was fate, destiny, chance - some force of attraction? - that I crossed her path. Perfect or what! No dream or hallucination after several weeks at sea on my own, not a siren sent by the Swiss gods to lead me astray, but a real woman, girl, a beauty...the charming EMMA on her beautiful boat! I steered towards her, hoping that I would surprise her in the middle of a sunbathing session on the deck in a skimpy bikini, instead there's no one about and nobody answers the VHF. Musing that she was frightened by the approach of a big bad sailor, recognizable by his beard and his smell, she had to hide herself in her cabin, I told myself. Disappointed, gutted even, I sailed off on my route against my will, on my own... I'm a lonesome poor skipper!
"Once out of sight, at a good distance, I receive a message from her: what cheek! She was taking refuge up her mast! She was inventing terrible excuses on the lines of 'I was busy replacing my main halyard'...well it was too late by then!"
Richards reported yesterday on her disaster: "I couldn't believe it. Last night my little world of boat, sea and race fell around my ears again. A few hours after dark, the main halyard snapped, dropping the whole mainsail to the deck in less than a second (only wish I could hoist it that fast!) It has snapped right at the top, so I have no choice but to don my hard hat and drag myself up the mast to replace the halyard.
"I would have done it immediately but it was pitch black last night and so I was bound to make a simple error that would force me to go up again this morning, and I doubt the bruising that is bound to occur as I bounce my way up the mast will permit me two trips up there.
"I got some sleep and with a clear head this morning I have a new halyard ready to go. I have also taken a spare block and lashing in case that was the cause of the chafe, a knife to cut away the old dead end up of halyard up there, and a lashing to lash me to the mast so I could use both hands to work instead of just holding on for dear life in an awful motion. There is a horrible sea running as the wind has been shifting round which will not make my life any easier. At least I'm not scared of heights! Ems x"
Leader Bernard Stamm on Bobst Group-Armor Lux has run out of straight road as the South Atlantic High is sitting right in front of his bow. Only one option was open to the Swiss skipper in his mind - to head down to the fringes of the 'roaring forties':
"I had to take the bull by the horns and jibe south after my downwind run through the narrow passage between the two high pressure systems. Three hours later, 35 knots of wind and 4.5m (approx. 15 feet) waves, a battering guaranteed!"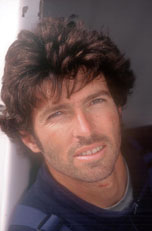 Frenchman Thierry Dubois,
skipper of Open 60 Solidaires
Photo Thierry Martinez
Courtesy Around Alone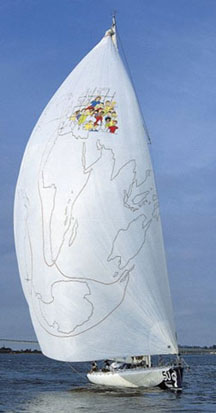 Solidaires sailing with a special spinnaker designed by French schoolchildren for
Amnesty International
Photo Courtesy Around Alone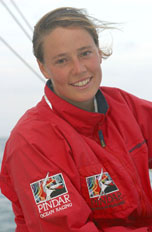 Emma Richards, British
skipper of Open 60 Pindar
Photo Thierry Martinez
Courtesy Around Alone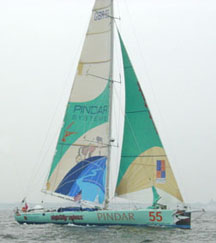 Pindar, in New York Harbor at the start